I love reading travel and adventure quotes, watching movies and reading books that inspire me to travel.  I especially love shorter quotes which are memorable and easy to remember.  These are are some of the best short travel quotes that fuel my wanderlust and inspire me to plan a trip.
Short Travel Quotes
1. "I haven't been everywhere, but it's on my list." — Susan Sontag
2. "Travel is my therapy."
3. "Oh Darling, Let's Be Adventurers."
4. "To travel is to live" – Hans Christian Andersen
5. "Not all those who wander are lost." – J. R. R. Tolkien
6. "People don't take trips, trips take people." – John Steinbeck
7. "Wherever you go…go with all your heart." Confucius
8. "Take only memories, leave only footprints." ― Chief Seattle
9. "The journey not the arrival matters." – T.S. Eliot
10. "You don't have to be rich to travel well." – Eugene Fodor
11. "Work. Save. Travel. Repeat."
12. "A good traveler has no fixed plans and is not intent on arriving." —Lao Tzu
13. "To travel is to take a journey into yourself."― Danny Kaye
14. "Live your life by a compass not a clock." – Stephen Covey
15. "Live, travel, adventure, bless, and don't be sorry." – Jack Kerouac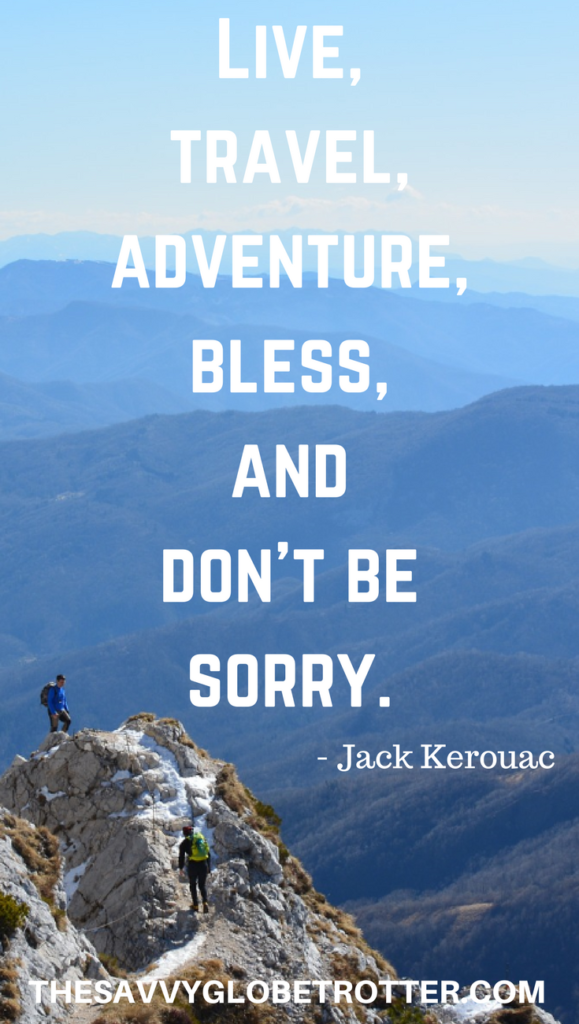 16. "We travel not to escape life, but for life not to escape us." – Anonymous
17. "Don't listen to what they say. Go see."
18. "It is better to travel well than to arrive." —Buddha
19. "The journey of a thousand miles begins with a single step." – Lao Tzu
20. "Jobs fill your pockets, but adventures fill your soul." –Jaime Lyn
21. "A journey is like marriage. The certain way to be wrong is to think you control it." – John Steinbeck
22. "Travel far enough, you meet yourself." – David Mitchell
Do you find quotes about travel inspiring? What are your favorite short travel quotes?
Looking for more inspiration? Check out 45 of the Best Travel Books That Inspire Wanderlust.
Ready to start planning a trip? Check out my travel bucket lists for ideas: