Looking for the top beach quotes and sayings that make you look forward to summer or need beach captions for your Instagram or social media photos? I have put together some of the best beach quotes to motivate you to take some time off and spend the day at the beach or plan your next beach vacation! Whether on your own, with friends or with family, these beach quotes capture the happy feeling of being at the beach.  (And make sure to check out my beach essentials packing list to make sure you have everything you need before heading out.)
Best Beach Quotes and Beach Captions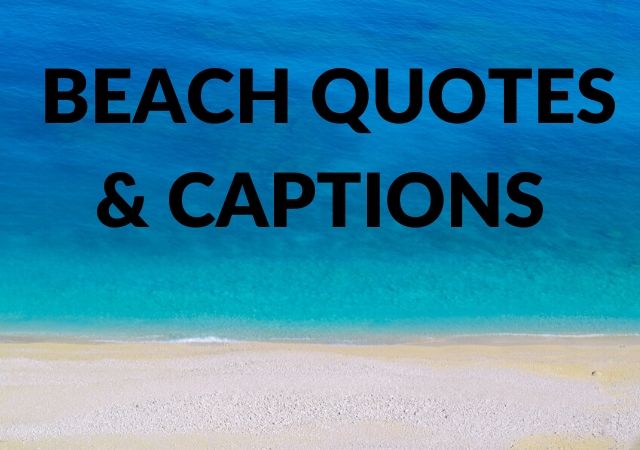 Like most people, I love spending time at the beach. There is nothing more relaxing that a beach vacation or even a day at the beach.  Just laying on the beach and enjoying being outside, looking at the beautiful ocean, getting some vitamin D. Even for those that don't enjoy the sun, what is is more beautiful that a stunning sunset at the beach?
I hope you enjoy these inspiring beach quotes and beach captions for your Instagram and facebook photos.
Inspirational Beach Quotes
1. "To escape and sit quietly on the beach – that's my idea of paradise." – Emilia Wickstead
2. "To go out with the setting sun on an empty beach is to truly embrace your solitude." — Jeanne Moreau
If you enjoy reading a good book while relaxing at the beach, we have put together a list of the
best travel books
to read for wanderlust inspiration.
3. "If there's heaven for me, I'm sure it has a beach attached to it."   – Jimmy Buffett
4. "Life takes you down many paths, but my favorite ones lead to the beach." – Unknown
5. "Feeling stressed? There's a beach for that." – Unknown
6. "My life is like a stroll upon the beach, as near to the ocean's edge as I can go."   – Henry David Thoreau
Cute Beach Quotes
7. "Salty hair, don't care."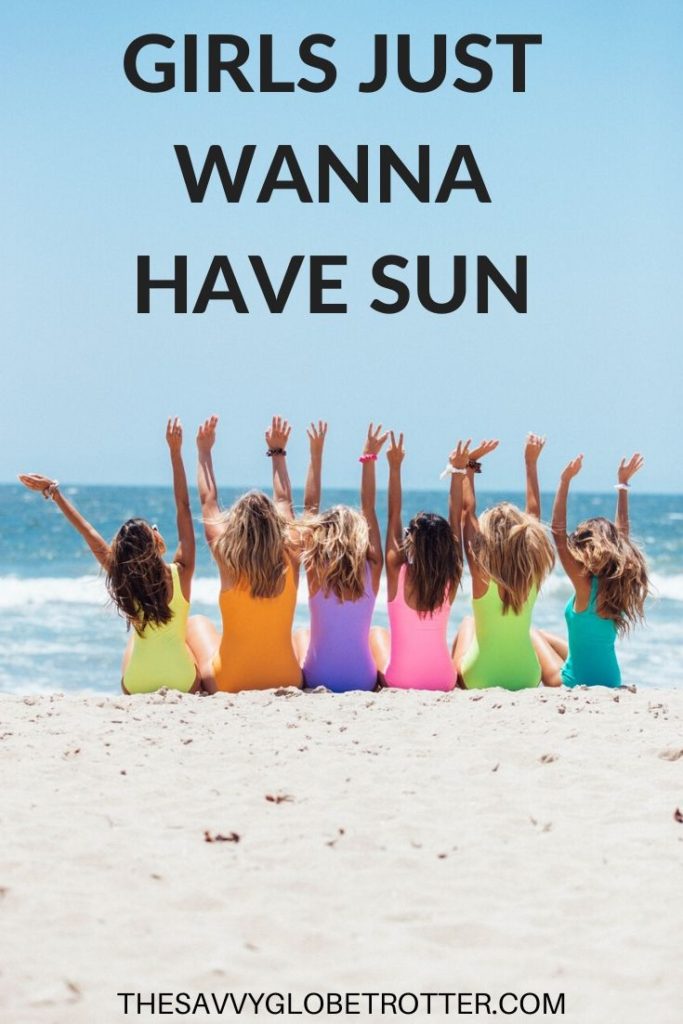 8. "Girls just wanna have sun."
9. "I followed my heart, and it led me to the beach."
10. "Gone coastal."
11. "Love you to the beach and back."
12. "B.E.A.C.H.: Best Escape Anyone Can Have."
13. "Eat. Beach. Sleep. Repeat."
14. "How to have a beach body: 1) Have a body. 2) Go to the beach." (I really love this beach quote. I don't think we should feel pressure to have a perfect body. The beach should be fun for everyone regardless of age, shape or size.)
Funny Beach Quotes
Here are some funny beach quotes (many based on popular phrases).
15. "Don't Worry, Get Sandy!"
16. "I'm pretty sure my birthstone is a sea shell."
17. "Aloha, beaches."
18. "Tropic like it's hot."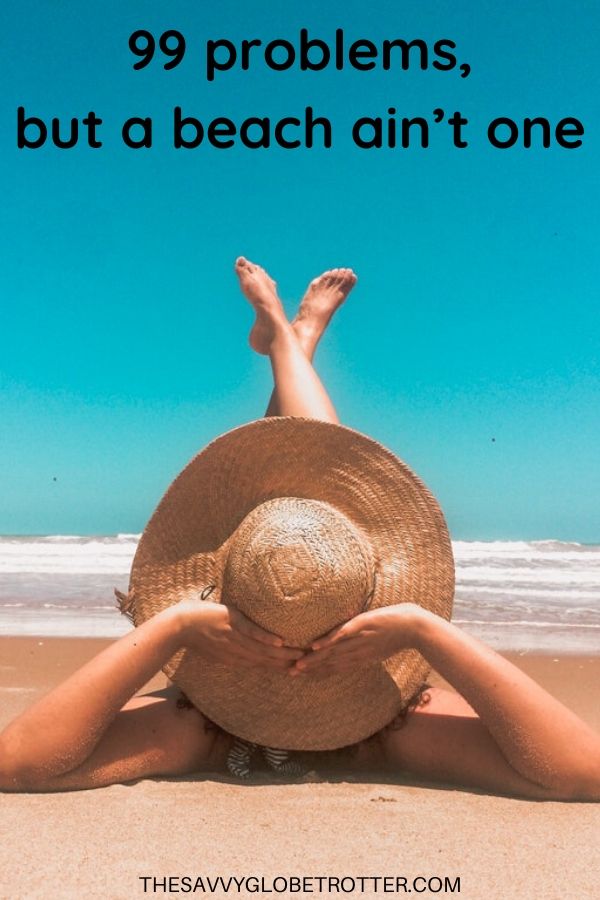 19. "99 Problems But A Beach Ain't One" based on the Jay-Z song.
Short Beach Quotes and Beach Captions
Looking for some beach quotes and captions for your instagram posts. You can't go wrong with these short beach quotes and captions.
20. "An ocean breeze puts a mind at ease."
21. "High tides, good vibes."
22. "Sandy Toes. Sunkissed nose."
23. "Resting beach face."
24. "Beach, please."
25. "Life is better in a bikini."
26. "I need Vitamin SEA."
27. "Ocean child."
28. "Saltwater therapy."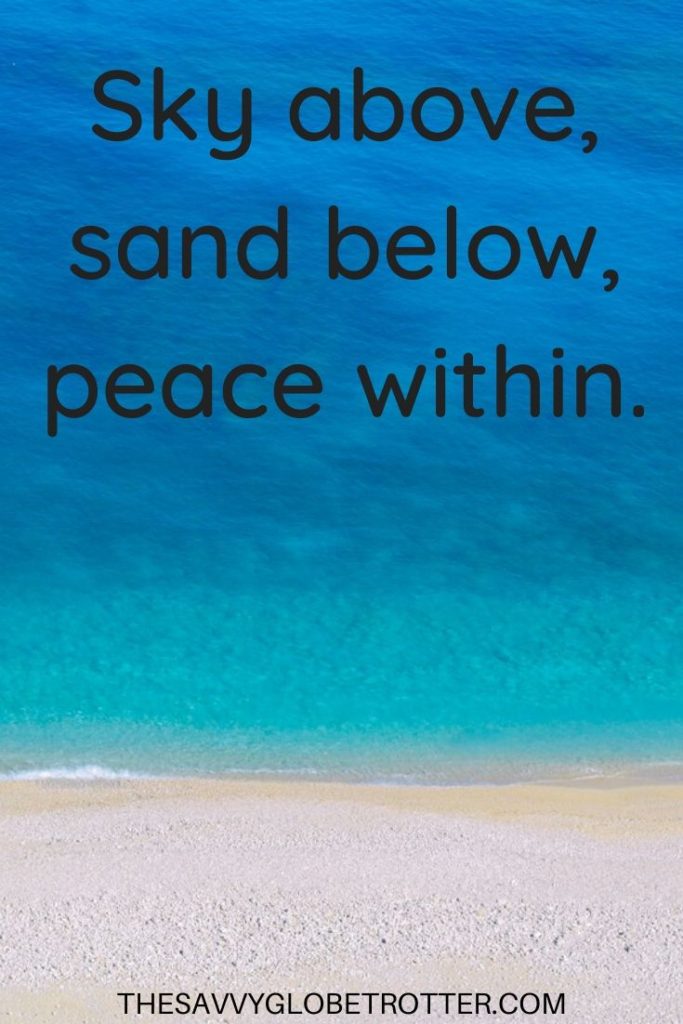 29. "Sky above, sand below, peace within."
30. "Good times and tan lines."
What are your favorite beach quotes?
---
Do you enjoy reading quotes? We have travel and adventure quotes: