Many of us will be spending time at the beach this summer whether traveling or close to home.  Not sure what to pack for a day at the beach or worried you will forget any beach essentials? To make sure you don't forget anything and have a great day at the beach, I have put together a beach vacation packing list.  (I also have a summer travel packing list if you are traveling this summer but this list is only for spending a day at the beach.)
Beach Packing List
Below is my beach vacation packing list.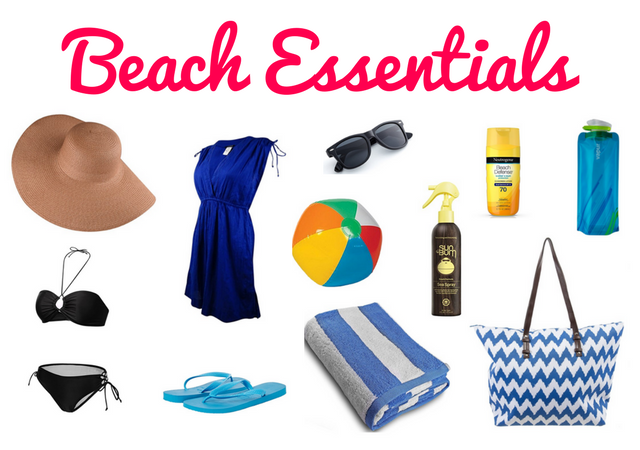 Beach Essentials
• Beach bag – Essential for carrying your beach essentials!
• Sunglasses – A must for the beach or most days really. Darker pairs offer the best UV protection.
• Hat – A hat is a must for sun protection.  A floppy hat is cute and stylish option for women. Coolibar hats have excellent sun protection for both men and women.
• Sunscreen  – Don't forget to bring sunscreen! Make sure your sunscreen has UVA as well as UVB protection and make sure to reapply after sweating or getting wet.
• Lip balm with UV protection – Don't forget your lips! Many people lather on the sunscreen but they overlook sun protection for their lips.
• Water – If you are going to a more remote beach bring your own water.
• Reusable/ insulated water bottle –  I like this insulated water bottle because it keeps my water and other drinks cool.
• Reading material –  A magazine, book or kindle.  If you need book suggestions, check out 45 of the best travel books.
• Smart Phone –  I never go anywhere without my smartphone.
• External Battery – If your battery gets depleted fast, you might also want to bring an external battery to recharge your phone or other electronics.
• ID and cash – I would not bring a lot of cash but a bit of cash for buying snacks and drinks  is a good idea.
Clothes to Bring for the Beach
• Flip-flops – These are my favorite flip flops because they have great traction and don't slip when walking on wet surfaces.
• Bathing suits  – Don't forget to pack at least 1 bathing suit for the beach or pool.
• Beach Coverup  – Women might want to bring a sarong, kaftan or swimwear cover up for the beach. Men can just wear shorts and a T-shirt.
• Extra change of clothes and underwear  – If you plan to shower at the beach, bring a change of clothes.
• Wet/Dry Bag for bathing suit  – If you plan to change at the beach, a wet/dry bag is a must for packing wet bathing suits.
Other Items You Might Need
• Beach towels – Your hotel might provide towels for the beach but if not don't forget to bring one or more beach towels.
• Beach mat or folding beach chair – Might be useful if going to a beach without chairs.
• Beach umbrella  – Many beaches have umbrellas and chairs you can use but if you are driving to a more remote beach you might want to pack your own beach umbrella.
• Snacks – You might want to pack snacks unless you are going to a beach with food nearby.  Granola bars make a great snack.
• First aid kit – A basic first aid kit (band aids, tweezer, and pain reliever) is a good idea especially for families with young children.
• Toiletries – Tissues, small mirror, hair spray with UV protection, comb or brush, hair ties, antibacterial wipes, hand sanitizer and if you will be showering (shampoo, conditioner and deodorant).
• GoPro –  A GoPro HERO5 Black is great for taking underwater photos.
• Waterproof Phone Case  – A waterproof smartphone case is handy if you want to bring your phone in the water for selfies.
• Entertainment – Beach ball, beach pail and shovels, floaties and other beach toys.
• Cooler – If you are driving to the beach you might want to bring a cooler. (Here is my list of road trip essentials!)
Do you have any beach essentials?
————-
Like this post? Pin it!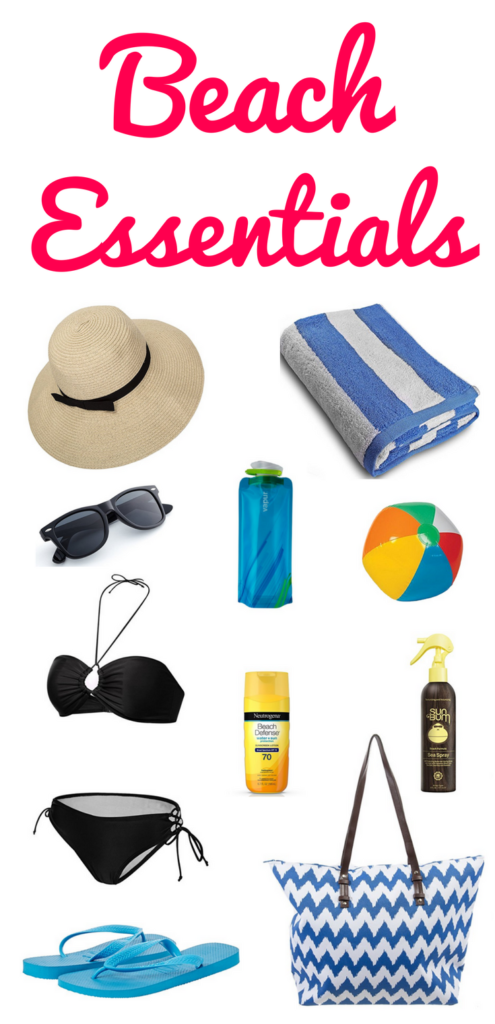 Disclosure: I am a participant in the Amazon Services LLC Associates Program, an affiliate advertising program designed to provide a means for me to earn fees by linking to Amazon.com and affiliated sites.