Whenever I am in between trips or just need some travel inspiration, I love reading travel quotes.  Reading quotes about travel fuels my wanderlust and motivates me to plan a new trip.  If you are looking for inspiration to explore the world or just plan your next vacation, I have put together 55 of the best travel quotes of all time, including famous travel quotes, short travel quotes, funny travel quotes, road trip quotes. adventure quotes, inspirational travel quotes and more quotes about traveling that will make you pack you bags and go!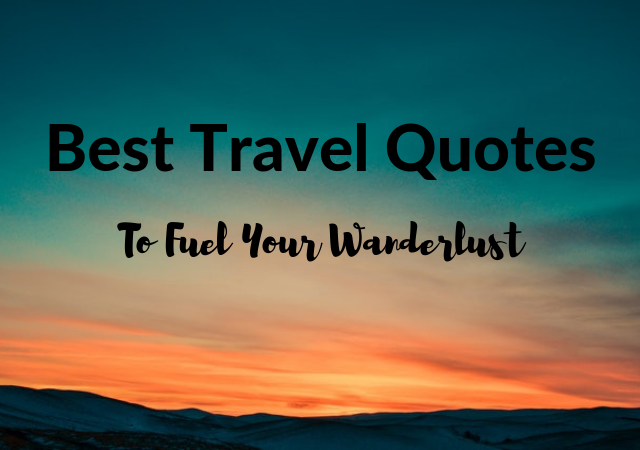 Famous Travel Quotes
1. "Not all those who wander are lost." – J. R. R. Tolkien
2. "We travel not to escape life, but for life not to escape us." – Anonymous
3. "The world is a book and those who do not travel read only one page." – Augustine of Hippo
4. "Travel makes one modest. You see what a tiny place you occupy in the world." – Gustave Flaubert
5. "Traveling – it leaves you speechless, then turns you into a storyteller." – Ibn Battuta
6. "People don't take trips, trips take people." – John Steinbeck
7. "Once a year, go someplace you've never been before." – Dalai Lama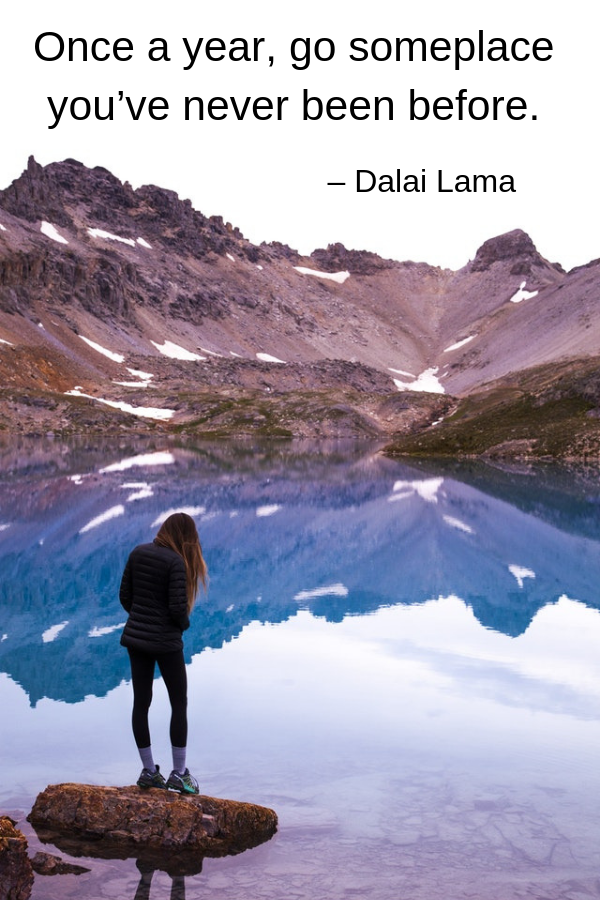 8. "I travel not to go anywhere, but to go. I travel for travel's sake. The great affair is to move." – Robert Louis Stevenson
Short Travel Quotes
9. "Travel is never a matter of money but of courage." – Paolo Coelho
10. "To travel is to live" – Hans Christian Andersen
11. "Life is short and the world is wide." – Anonymous
12. "Wherever you go…go with all your heart." – Confucius
13. "Take only memories, leave only footprints." ― Chief Seattle
14. "You don't have to be rich to travel well." – Eugene Fodor
15. "Work. Save. Travel. Repeat." – Anonymous
16. "A good traveler has no fixed plans and is not intent on arriving." —Lao Tzu
17. "It is not down in any map; true places never are." – Herman Melville
18. "Live your life by a compass not a clock." – Stephen Covey
19. "Don't listen to what they say. Go see." – Anonymous
20. "It is better to travel well than to arrive." —Buddha
Funny Travel Quotes
21. "When preparing to travel, lay out all your clothes and all your money. Then take half the clothes and twice the money." – Unknown
22. "Vacation calories don't count." – Anonymous
23. "I travel a lot; I hate having my life disrupted by routine." – Caskie Stinnett
24.  "I haven't been everywhere, but it's on my list." — Susan Sontag
25. "Travel is my therapy." – Anonymous
Travel With Friends Quotes
26. "I have found out that there ain't no surer way to find out whether you like people or hate them than to travel with them". – Mark Twain
27. "The man who goes alone can start today; but he who travels with another must wait till that other is ready." – Henry David Thoreau
28. "A journey is best measured in friends, rather than miles." – Tim Cahill
Road Trip Quotes
29. "Stop worrying about the potholes in the road and enjoy the journey." – Babs Hoffman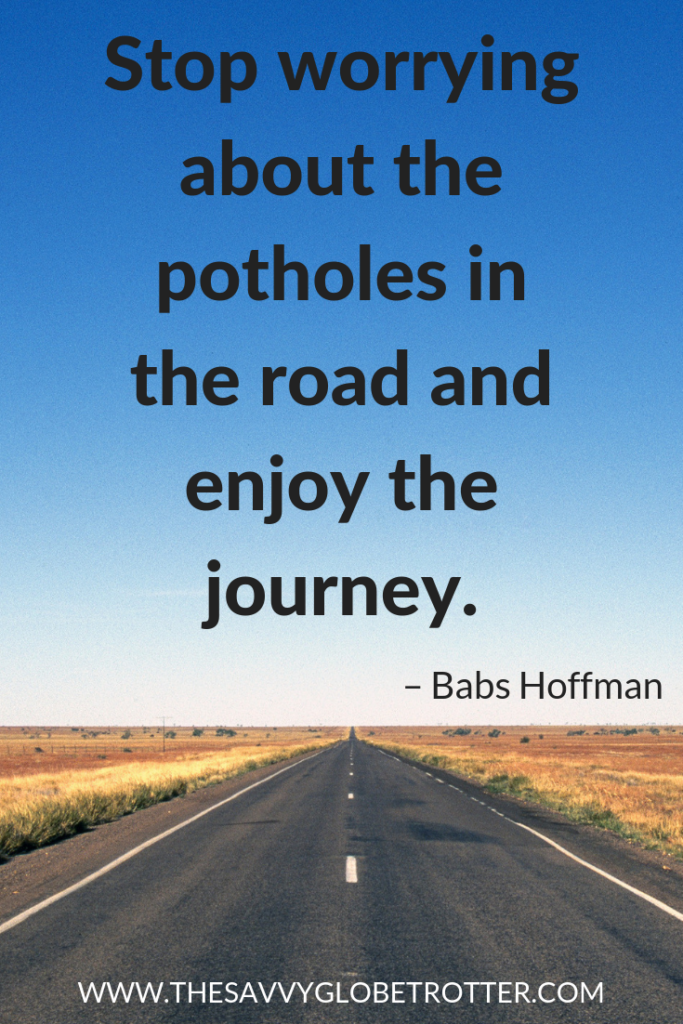 30. "Nothing behind me, everything ahead of me, as is ever so on the road." — Jack Kerouac
31. "Two roads diverged in a wood, and I – I took the one less traveled by."-Robert Frost
32. "I take to the open road, healthy, free, the world before me." – Walt Whitman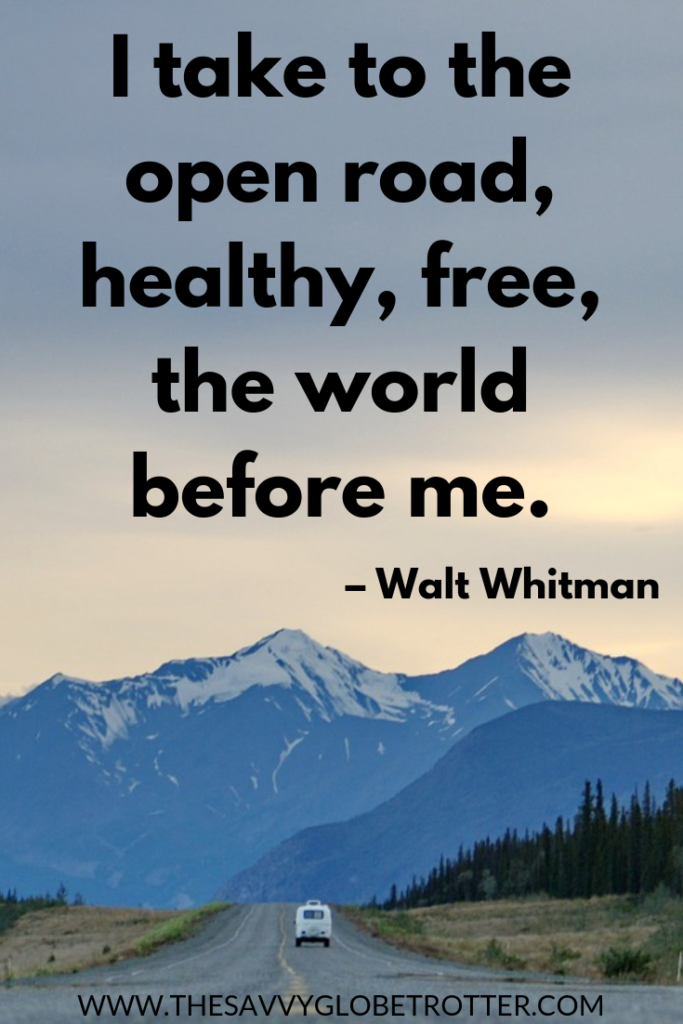 Travel and Adventure Quotes
33. "Live, travel, adventure, bless, and don't be sorry." – Jack Kerouac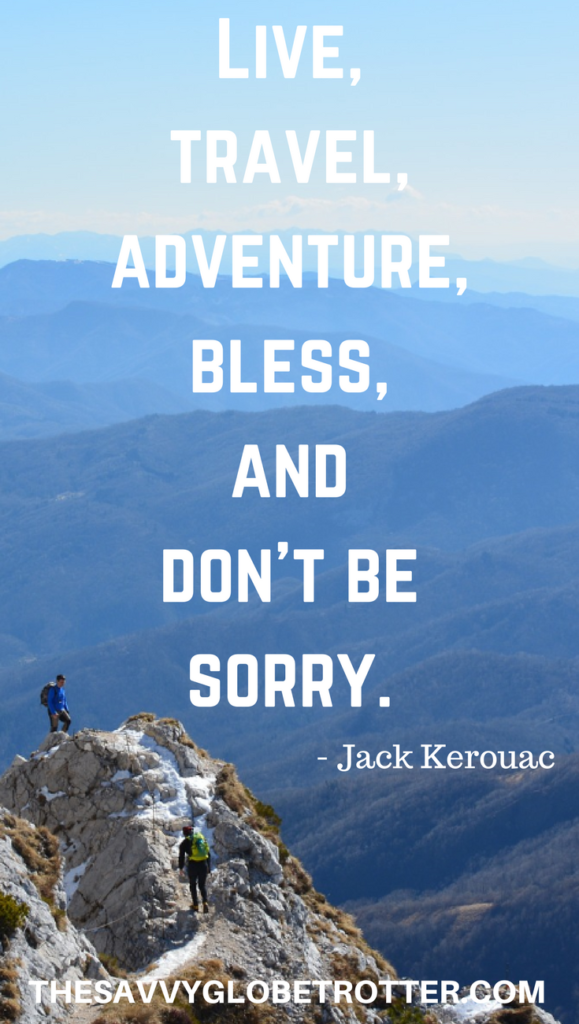 34. "You must go on adventures to find out where you truly belong." -Sue Fitzmaurice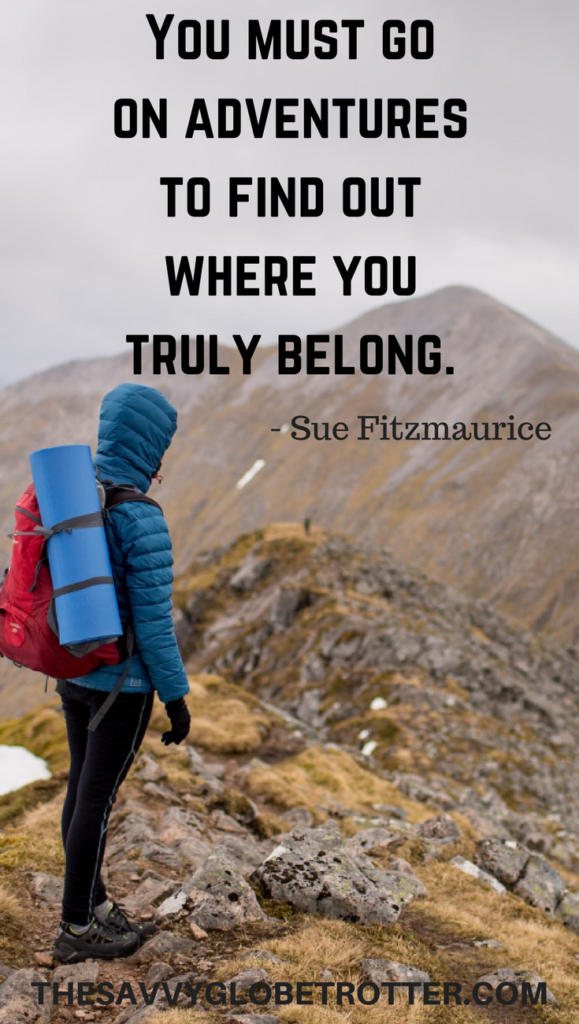 35. "A man practices the art of adventure when he breaks the chain of routine and renews his life through reading new books, traveling to new places, making new friends, taking up new hobbies and adopting new viewpoints." – Wilfred Peterson
Best Inspirational Travel Quotes
36. "Live life with no excuses, travel with no regret" –Oscar Wilde
37. "Man cannot discover new oceans unless he has the courage to lose sight of the shore." – Andre Gide
38. "Travel and change of place impart new vigor to the mind." -Seneca
39. "We travel, some of us forever, to seek other states, other lives, other souls." — Anais Nin
40. "We live in a world that is full of beauty, charm and adventure. There is no end to the adventures we can have if only we seek them with our eyes open." ―Jawaharial Nehru
41. "I am not the same, having seen the moon shine on the other side of the world." -Mary Anne Radmacher
42. "Only those who risk going too far can possibly find out how far they can go." -T.S Eliot
43. "Because in the end, you won't remember the time you spent working in the office or mowing your lawn. Climb that goddamn mountain." ―Jack Kerouac
44. "Twenty years from now you will be more disappointed by the things you didn't do than by the ones you did do. So throw off the bowlines. Sail away from the safe harbor. Catch the trade winds in your sails. Explore. Dream. Discover." -Mark Twain
Best Quotes about Travelling in General
45.  "The more I traveled the more I realized that fear makes strangers of people who should be friends." – Shirley MacLaine
46. "There are no foreign lands. It is the traveler only who is foreign." — Robert Louis Stevenson
47. "Perhaps travel cannot prevent bigotry, but by demonstrating that all peoples cry, laugh, eat, worry, and die, it can introduce the idea that if we try and understand each other, we may even become friends." – Maya Angelou
48. "If you reject the food, ignore the customs, fear the religion and avoid the people, you might better stay home." – James Michener
49. "This wasn't a strange place; it was a new one." — Paolo Coehlo
50. "I'm in love with cities I've never been to and people I've never met." – Melody Truong
51. "Remember that happiness is a way of travel – not a destination." – Roy M. Goodman
52. "The value of your travels does not hinge on how many stamps you have in your passport when you get home — and the slow nuanced experience of a single country is always better than the hurried, superficial experience of forty countries." – Rolf Potts
Journey Travel Quotes
53. "To travel is to take a journey into yourself."― Danny Kaye
54. "The journey not the arrival matters." – T.S. Eliot
55. "The journey of a thousand miles begins with a single step." – Lao Tzu
Do you find quotes about travel inspiring? What do you think are the best travel quotes?
Looking for more inspiration? Check out 45 of the Best Travel Books That Inspire Wanderlust.