Heading on a road trip soon and looking for the top road trip songs to add to your road trip playlist?  I've got you covered with 50+ of the best road trip songs to listen (and sing along to) on long car drives.
Road Trip Songs For Your Road Trip Playlist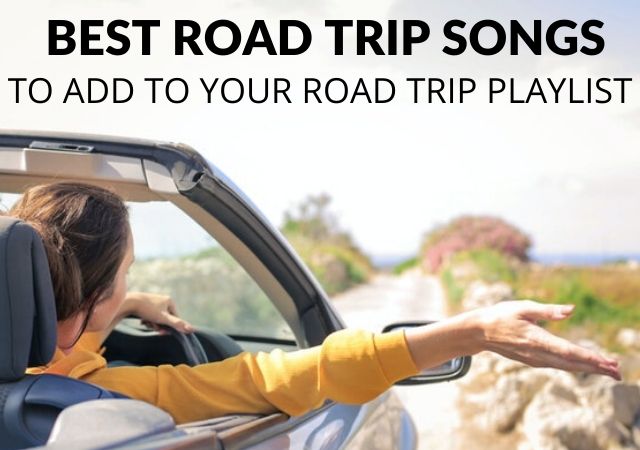 Listening to good music is essential on a long road trip. If you are driving solo, a great road trip playlist helps you pass the time and keeps you company. If you are traveling with friends or family, singing out loud to your favorite songs makes the trip more fun.
I hope you enjoy this list of great road trip songs. I have included a mix of road trip songs from different genres (including rock, pop and country) and different eras (from classic road trip songs to modern road trip songs). Most of these great songs are about road trips and travel or cars, highways and driving in general.
(And if you are planning on taking a road trip soon make sure to check out my essential road trip packing list to make sure you have all your road trip essentials before you go!)
10 Best Road Trip Songs of All Time
I think these are the 10 best road trips songs of all time (in no particular order).
"Born to Run" by Bruce Springsteen
"On the Road Again" by Willie Nelson
"Take Me Home, Country Roads" by John Denver
"Life Is a Highway" by Tom Cochrane
"Little Red Corvette" by Prince
"I'm Gonna Be (500 Miles)" by the Proclaimers
"Take It Easy" by the Eagles
"Born to Be Wild" by Steppenwolf
"Sweet Home Alabama" by Lynyrd Skynyrd (This song is perfect for a classic American road trip in the South.)
"I Can't Drive 55" by Sammy Hagar
Best Classic Road Trip Songs
Below are the greatest classic road trip songs that need to be on your music playlist:
"Long Lonely Highway" by Elvis Presley
"Highway to Hell" by AC/DC
"American Pie" by Don McLean
"Hit the Road Jack" by Ray Charles
"Route 66" by Chuck Berry
"No Particular Place to Go" by Chuck Berry
"Truckin'" by The Grateful Dead
"Running on Empty" by Jackson Browne
"Tiny Dancer" by Elton John
"Mustang Sally" by Wilson Pickett
"Radar Love" by Golden Earring
"Hotel California" by Eagles
"America" by Simon & Garfunkel
"The Passenger" by Iggy Pop
80s Road Trip Songs
Below are best modern road trip songs to add to your music playlist:
"Holiday Road" by Lindsey Buckingham
"Road to Nowhere" by Talking Heads
"Danger Zone" by Kenny Loggins (from the movie Top Gun)
"Don't Stop Believin'" by Journey
"Love Shack" by the B52s
"Here I Go Again" by Whitesnake
"Born in the U.S.A" by Bruce Springsteen
"Free Fallin'" by Tom Petty and the Heartbreakers
"I Drove All Night" by Cyndi Lauper
"Fast Car" by Tracy Chapman
90s Road Trip Songs
Below are best modern road trip songs to add to your music playlist:
"Road Trippin'" by Red Hot Chili Peppers
"I've Been Everywhere" by Johnny Cash
"The Distance" by Cake
"Drive" by Incubus
"The Way" by Fastball
"Everyday is a Winding Road" by Sheryl Crow
Modern Road Trip Songs
Below are best modern road trip songs to add to your music playlist:
"Shut Up and Drive" by Rihanna
"California" by Phantom Planet – this is one of my favorite California road trip songs.)
"Keep the Car Running" by Arcade Fire
"A Thousand Miles" by Vanessa Carlton
"California Gurls" by Katy Perry (featuring Snoop Dogg)
"Maps For The Getaway" by Andrew McMahon
"Holocene" by Bon Iver
"I Am The Highway" by Audioslave
"Wild" by John Legend and Gary Clark Jr. – this is song was just released and is perfect for couples on a romantic getaway
"Home" by Edward Sharpe and the Magnetic Zeros – this is the perfect song to listen on the way back home after a long trip
Road Trip Playlist on Spotify
To make it easier for you to listen, I have created a spotify playlist of the best road trip songs of all time:
What are your favorite road trip songs?
---
Need some road trip and travel inspiration?