Europe has some of the most beautiful towns and villages in the world. Full of historic buildings, castles, towers, bridges and cobblestone streets, there is no continent which has such pretty and photogenic towns that look straight out of a fairy tale. If you are looking for travel inspiration for your next trip to Europe, read on for some of the most beautiful fairytale towns in Europe that you need to visit.
Most Beautiful Fairytale Towns in Europe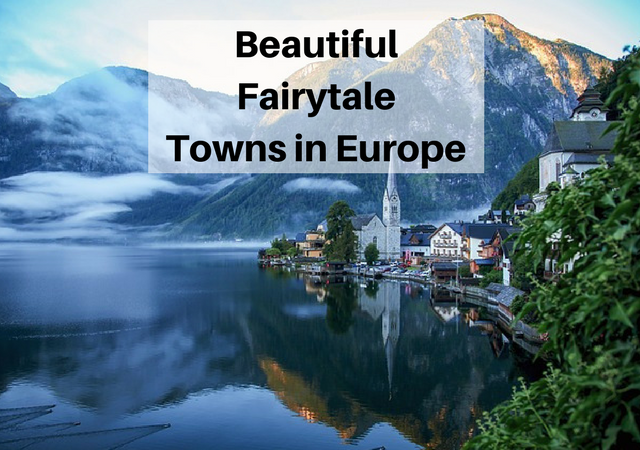 Hallstatt, Austria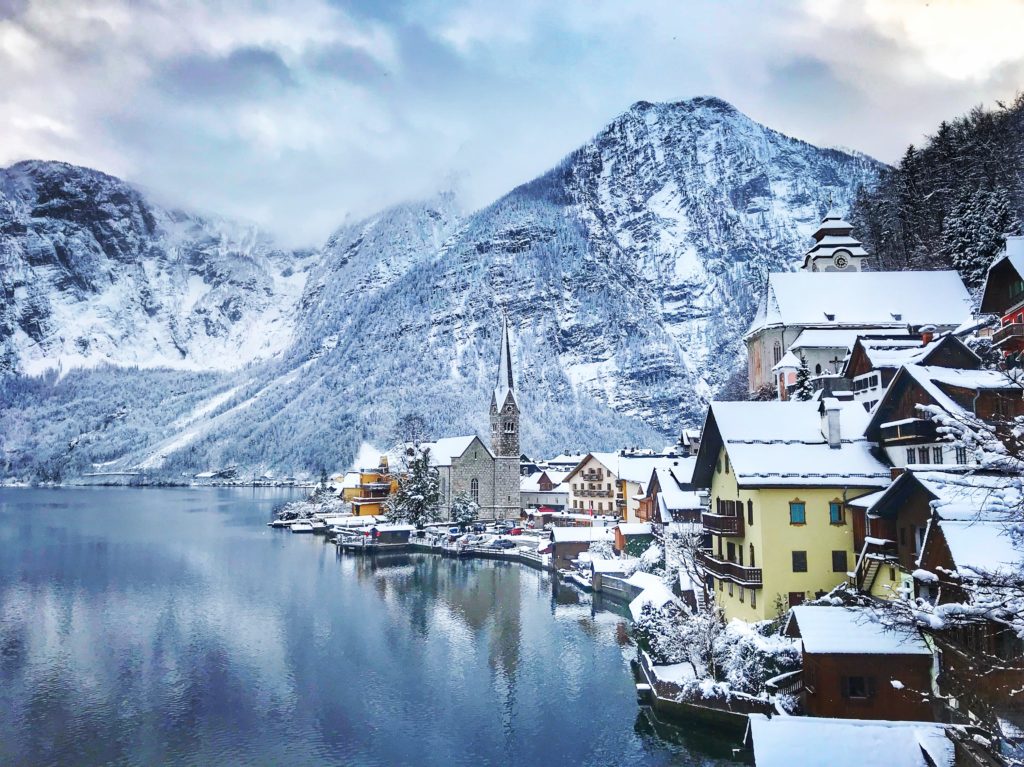 Contributed by Medha from Hopping Feet
This fairytale town in Austria is perhaps as romantic as it can get! Although I spent only a day here, it was the most magical experience I've ever had. I visited Hallstatt because I had seen stunning pictures of it, the lake with the pastel-coloured wooden houses stacked one on top of the other, the iconic church with its steeple and the hills in the backdrop.
Hallstatt is very small – there isn't a lot to do in this sleepy town. You could take a leisurely stroll along the lake, sip on a coffee with the most incredible views, hike up (or take a funicular) to the World Heritage Skywalk, an observation deck offering gorgeous vistas of the town, visit the museum in the town that talks about its salt mining history, buy souvenirs at the Market Square or visit the famous Catholic parish church of Hallstatt.
This UNESCO World Heritage Site is also known as the Pearl of the Salzkammergut and is located 1.5 hours away from Salzburg. It can be reached by either bus (from Salzburg) or a train (from Vienna or Salzburg) followed by a short ferry ride across the lake.  Click here to book a day trip from Salzburg.
Sintra, Portugal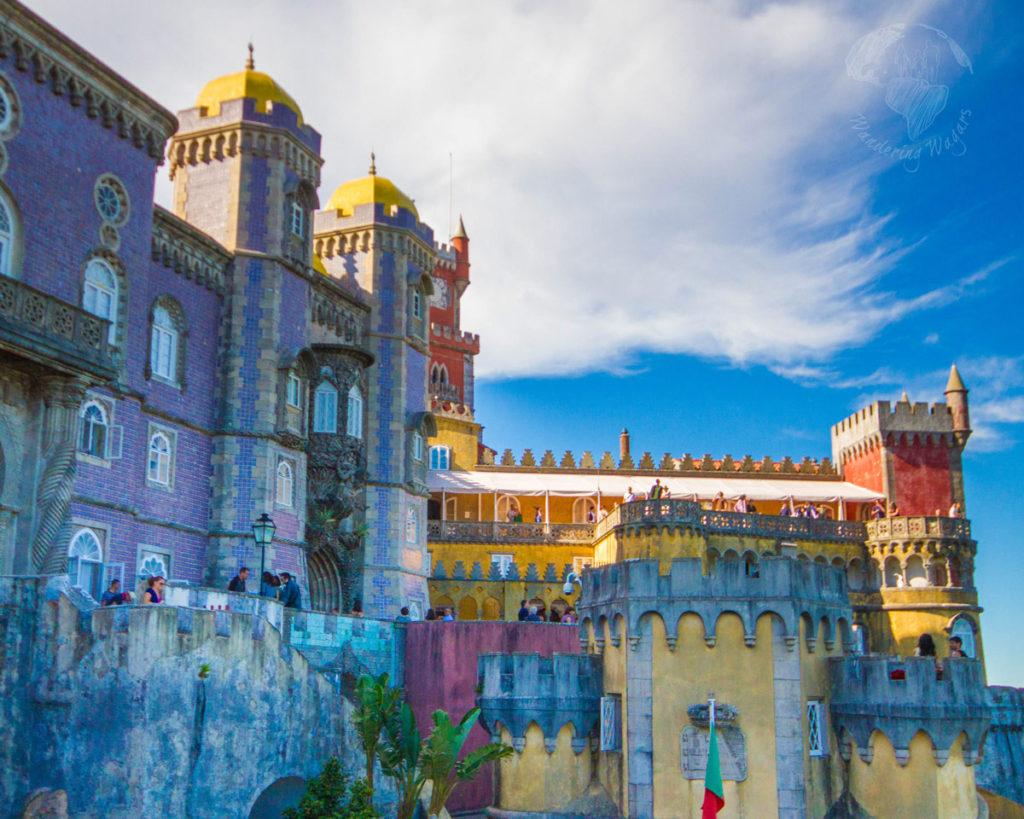 Contributed by Kevin Wagar from Wandering Wagars
Sintra is a fairytale town about 33 km from the Portuguese capital of Lisbon. It's close makes it a popular day-trip. Sintra contains an amazing variety of architecture. The candy coloured façade of Pena Palace appears drawn from a fairytale and beckons visitors to explore once they enter the historical centre. Close by is the National Palace with it's distinctive chimney stacks and intricately decorated rooms. The palace holds the title of being the most lived in royal palace in Portugal. The blend of Gothic, Manueline, Moorish, and Mudéjar architecture makes it easy to imagine those bygone days. Although not as frequented as the National and Pena Palaces, the Moorish Castle is a worthwhile stop. The hike along the walls beckons images of knights protecting the kingdom. Plus, the views from the top are spectacular. Click here to book a day tour from Lisbon.
Cesky Krumlov, Czech Republic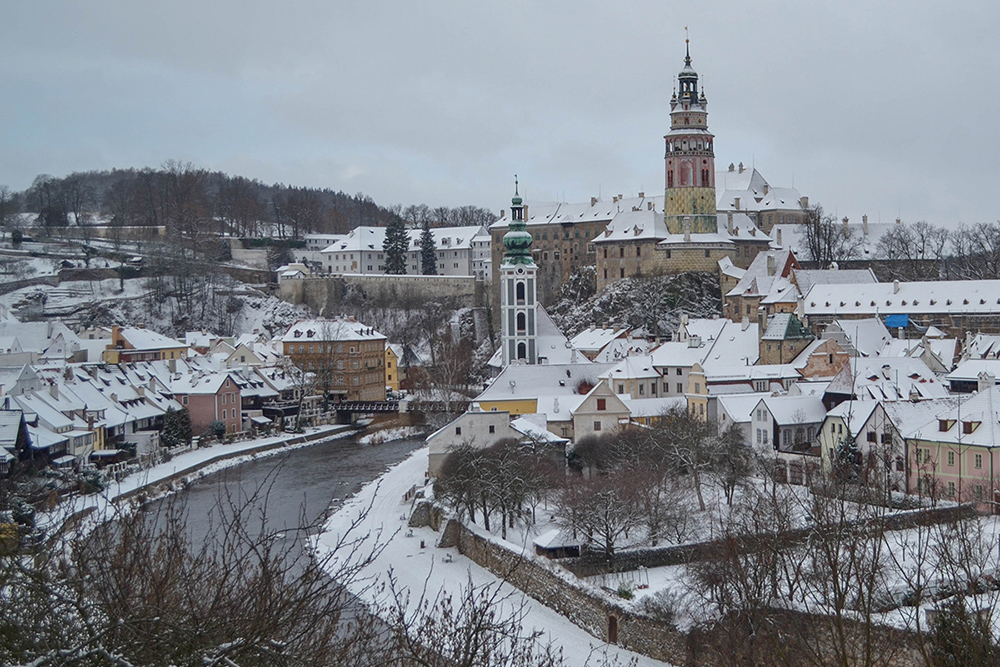 Contributed by Allan from Live Less Ordinary
Cesky Krumlov is a cute town and UNESCO zone, famous for its well-preserved heritage buildings and Bohemian architecture, found in the Bohemian regions of the Czech Republic. The historical centre of the town is compact, easy to navigate, and pedestrianized (parking is found outside of the castle walls) and it should take no longer than a leisurely hour to circle the entire perimeter. And I recommend doing so, as the scenes are straight from a fairy tale picture book, of old Bohemian Europe. Dotted throughout the central areas are bohemian taverns selling traditional dishes like Vepro Knedlo Zelo, a plate of roast meats with 'knedli' dumplings, accompanied by all sorts of game meats, like venison, rabbit, and pheasant. Not to forget the local meads, schnapps, ales and grogs in various Bohemian taverns.
To reach the town there are buses and trains from Prague in the North, and due to limited transport routes in winter, it feels so forgotten and serene.  You can also book a day tour from Prague.
Giethoorn, Netherlands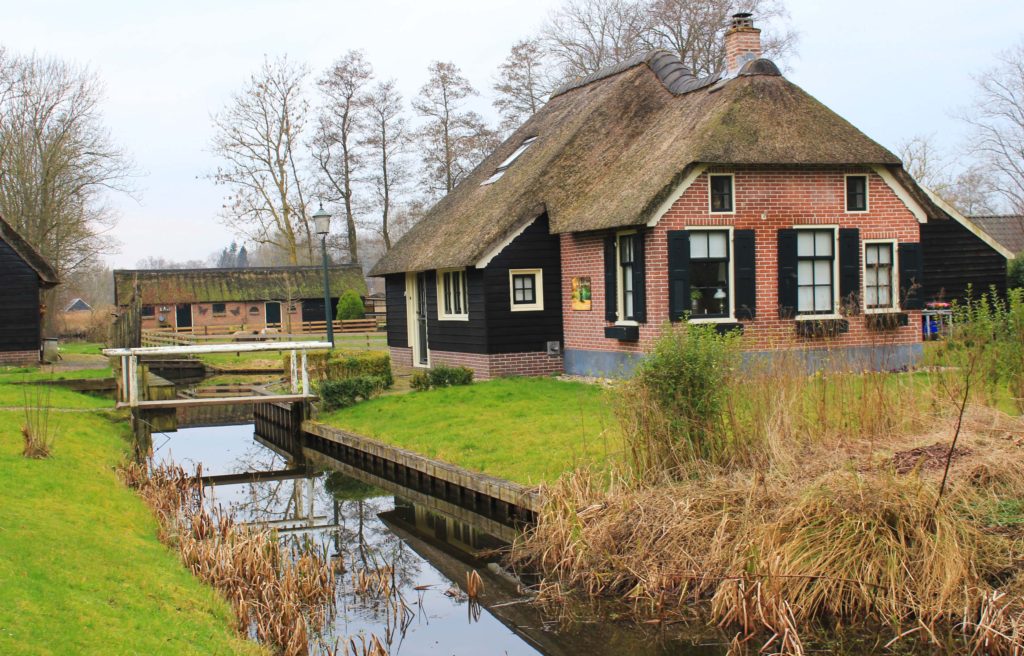 Contributed by Manouk, Bunch of Backpackers
Giethoorn is a charming little village in the Netherlands. The village is known for its waterways, steep wooden bridges and old Dutch farmhouses.  Some people say it is the most beautiful village in the world! Motorized traffic is not allowed in the old part of Giethoorn, so the best to explore Giethoorn is by boat. You can easily hire a boat yourself or take a canal cruise. In the evening you can go for an atmospheric moonlight cruise. Giethoorn also has two interesting museums 'Het Olde Maat Uus' and 'De Oude Aarde'.
Giethoorn is located only 1.5 hours from Amsterdam by car or 2.5 hours from Amsterdam by public transportation. Click here to book a day tour from Amsterdam. It makes a fun day trip!
Bibury, England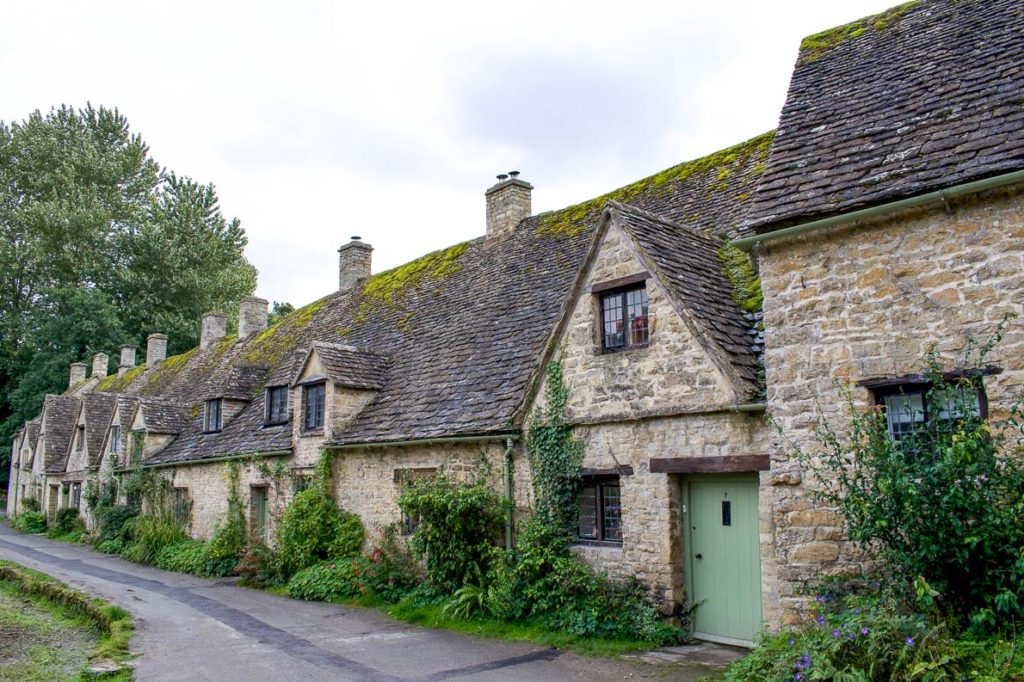 Contributed by Emily from Kids and Compass
Tucked away in the Cotswolds in SW England, Bibury is the quintessential English village.  In a region known for its beautiful towns and villages Bibury is one of the most visited, and for good reason.
At Bibury you'll want to explore the famous Arlington Row, a picturesque row of higgledy-piggledy cottages that date from the 14th Century.  Take a gentle walk past the stream to the Bibury Trout Farm where you can catch your own lunch and enjoy the gardens.  If you're not in the mood for fish then there's a lovely pub next door to the trout farm.
A tip: you'll want to arrive first thing in the morning or out of season to avoid the tour buses.  You can book a one day tour of the Cotswolds from London. If you're not on a tour then you'll need to drive to Bibury, but be aware that parking is limited.  Bibury is a short drive from the nearest large town, Cirencester.
Bled, Slovenia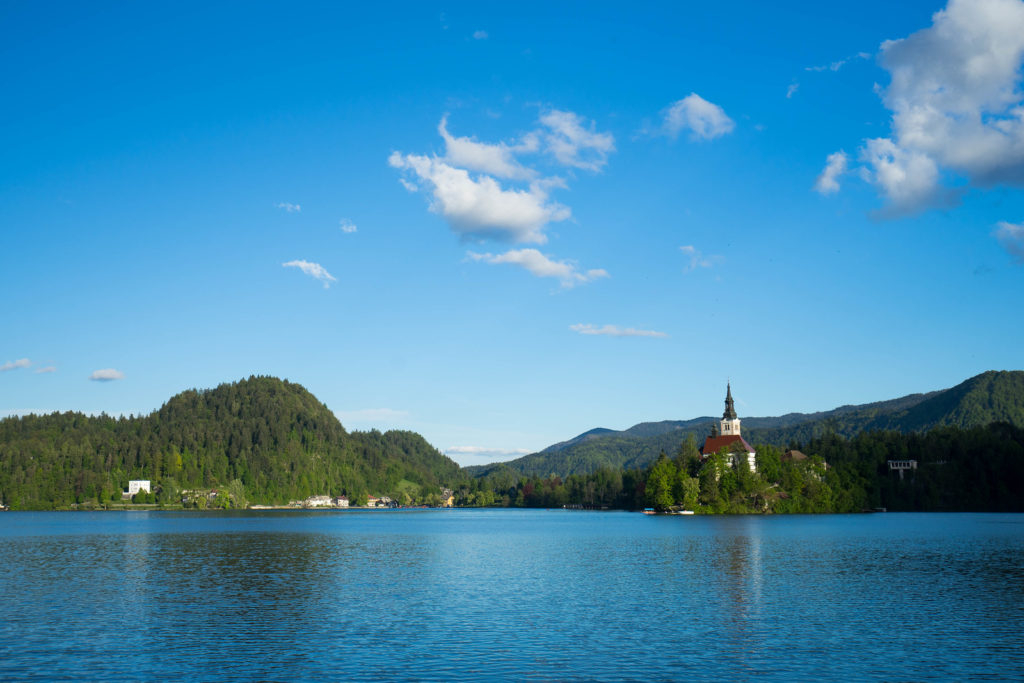 Contributed by Kay Rodriguez from Jetfarer
With its iconic lake and backdrop of snow-capped mountains, Bled, Slovenia is undoubtedly one of the most magical places in all of Europe. Located a short drive or bus from Ljubljana, Bled is the perfect relaxing weekend getaway. Whether you like nature, history, or food, there are so many things to do in Lake Bled, Slovenia for travelers of all kinds.
While in Bled, you can tour the lake and the small church that sits on Bled Island, making a wish by ringing the bell three times. Alternatively, you can explore Bled Castle for some amazing views of the lake and a history lesson on the town. Hike up to the Ojstrica and Osjonica viewpoints for postcard-perfect panoramas (sunset is a great time for this), or make your way to Vintgar Gorge and explore its turquoise waters jetting through a steep set of rock formations. And, of course, top it all off with a coffee and a slice of Bled's famous cream cake, a delicious dessert that's a specialty in the area. No matter what you do during your visit, you're sure to fall in love with the charm and beauty of Lake Bled.  Click here to book a day trip from Ljubljana.
Dinan, France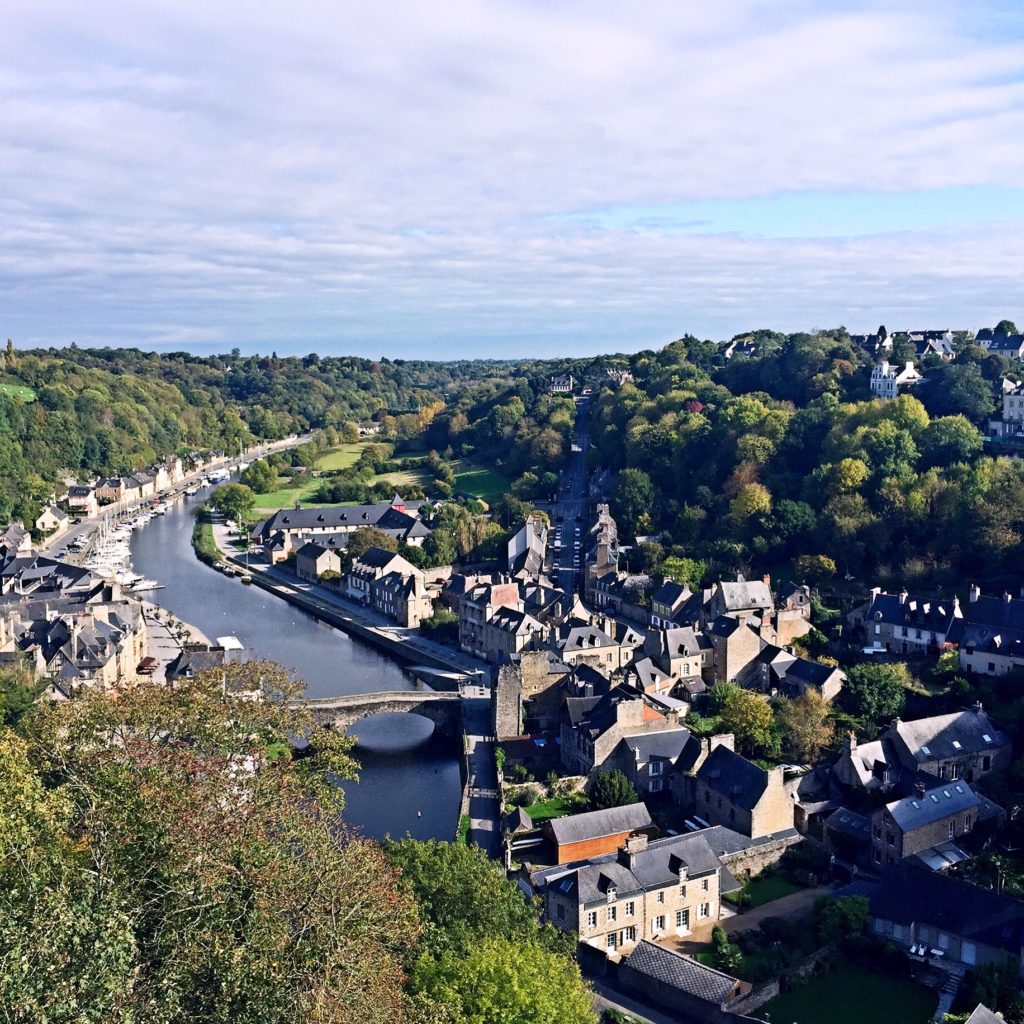 Contributed by Mayi from Secret Moona
Brittany has an incredible number of charming villages and Dinan could easily be called the most beautiful town of Brittany. This preserved medieval port town is full of charm and character.
Dinan is great to explore on foot. Walk along the quaint cobbled streets of the Old Town and admire the timbered houses. As you wander around the streets be sure to stop by the famous Rue Jerzual lined with art galleries, craft and pottery shops. Strolling atop the ramparts of the walled town or climb the Tour de l'Horloge (clock tower) to enjoy sweeping views of the Rance valley are a must.
In the evening, take another stroll by the port. There are plenty of restaurants and crêperies along the quay where you can sit back, relax with a glass or two and admire the boats come and go. Thanks to its history, heritage and preservation, Dinan is one of the most sought-after, tourist destinations in Brittany so why not go and see it for yourself.
Get there: Trains run from Paris Montparnasse to Rennes, taking about 2hrs. From there, the bus 7 (illenoo) runs to Dinan.
Karlovy Vary, Czech Republic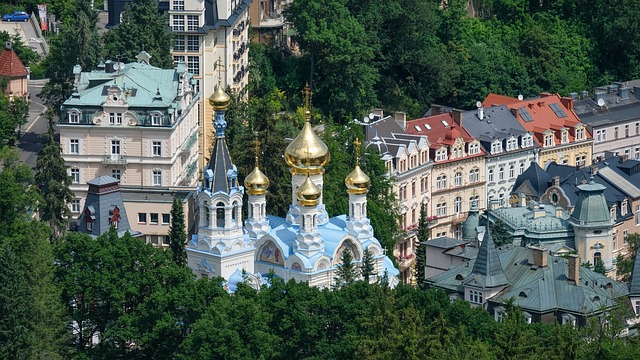 Contributed by Aditi Kapoor, from Travelogue Connect
Karlovy Vary is a dreamy fairytale town in Czech Republic. It is one of the non-touristy places rich in history and well worth exploring for a day or two.
The main attractions in Karlovy Vary are its hot springs, spa-influenced architecture, age-old glass museum – The Moser Visitor Centre, Church of St. Mary Magdalene, Karlovy Vary Museum and Art Gallery, Loket Castle, Historical Motorcycle Museum and more!
The spa town of Karlovy Vary is also a cultural hotspot boasting a performing arts center, art galleries, and a number of museums, and is famous for the Karlovy Vary International Film Festival, one of the longest-running events in Europe.
Karlovy Vary can be easily visited as a day trip from Prague.
Kaysersberg, France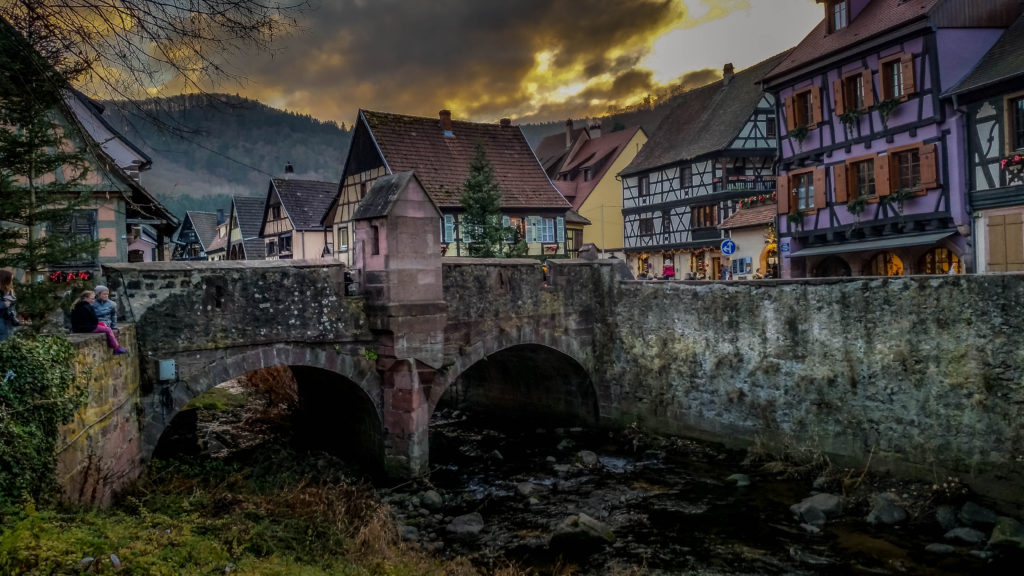 Contributed by Bec from Wyld Family Travel
Kaysersberg is part of the Alsace region and it is an absolutely stunning area. Tiny picturesque towns that look like they are straight out of a fairy tale dot the area and Kaysersberg is one of our favourites. We have wandered the town in both summer and winter and it just gets better every time we go. The town is made up mostly of colourful stone and wood houses with a chateau that sits high on a hill over looking the town that is surrounded by grape vines. You can sit in a gorgeous little square and enjoy a meal, people watch, have a wine and marvel at the sheer beauty of the town. During winter it has one of the most amazing Christmas markets that is well known for being one of the best in Europe. For us it is just simply gorgeous and we could have wandered it for hours looking at all the houses and walking over the 16th century bridge a thousand times.
RELATED –
Planning a trip to Europe soon? Make sure to check out our
Europe Packing List
for all the travel essentials for Europe.
Stari Grad, Croatia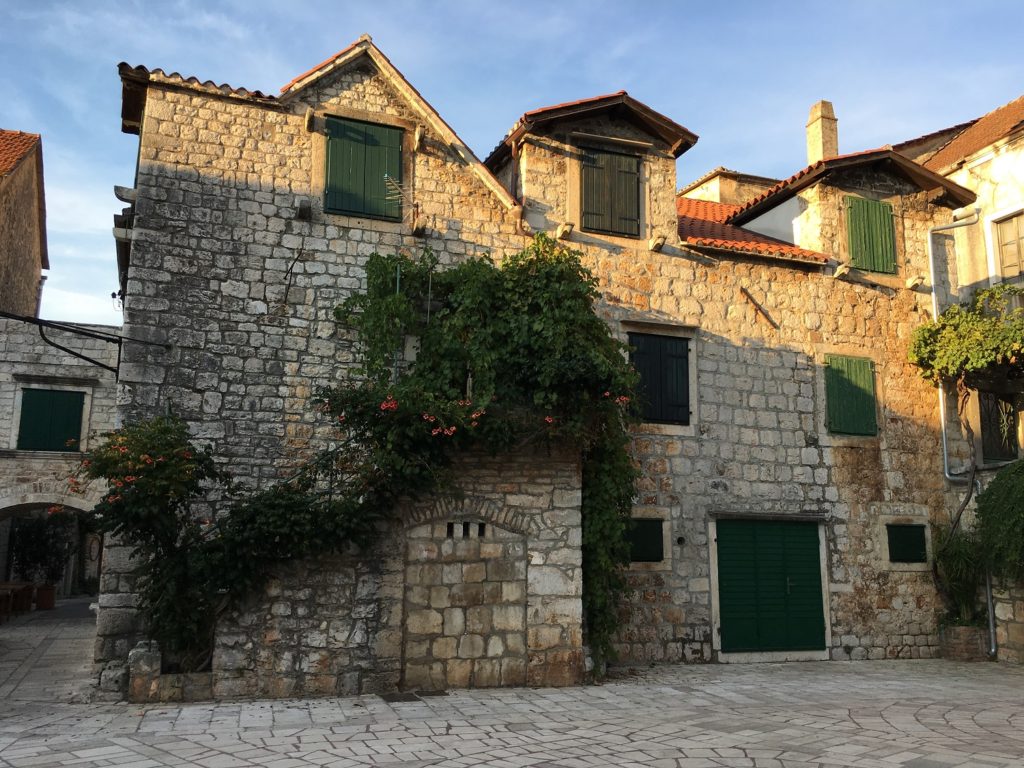 Contributed by Lotte from Phenomenal Globe Travel Blog
Stari Grad is a fairy-tale town on the island Hvar one of the many beautiful islands in the Central Dalmatian Archipelago of Croatia. Founded 400 years BC it's one of the oldest towns in Europe. Stari Grad is exceptionally well preserved Stari Grad and a UNESCO Heritage site.
The little village is one of the prettiest towns (perhaps even the prettiest town) I have ever seen.  With it's cute cobblestone streets, little boutiques selling wine, arts and crafts, lovely stone houses, hidden restaurants and friendly people Stari Grad is one of my favourite places in the world (and I don't say that lightly!).
How to get there? The best way to get there is with a sailing boat, but if that's out of the budget you can take the direct ferry from Split. A ticket costs 39 Croatian Kuna (€5), the trip will take around 2 hours.
Bacharach, Germany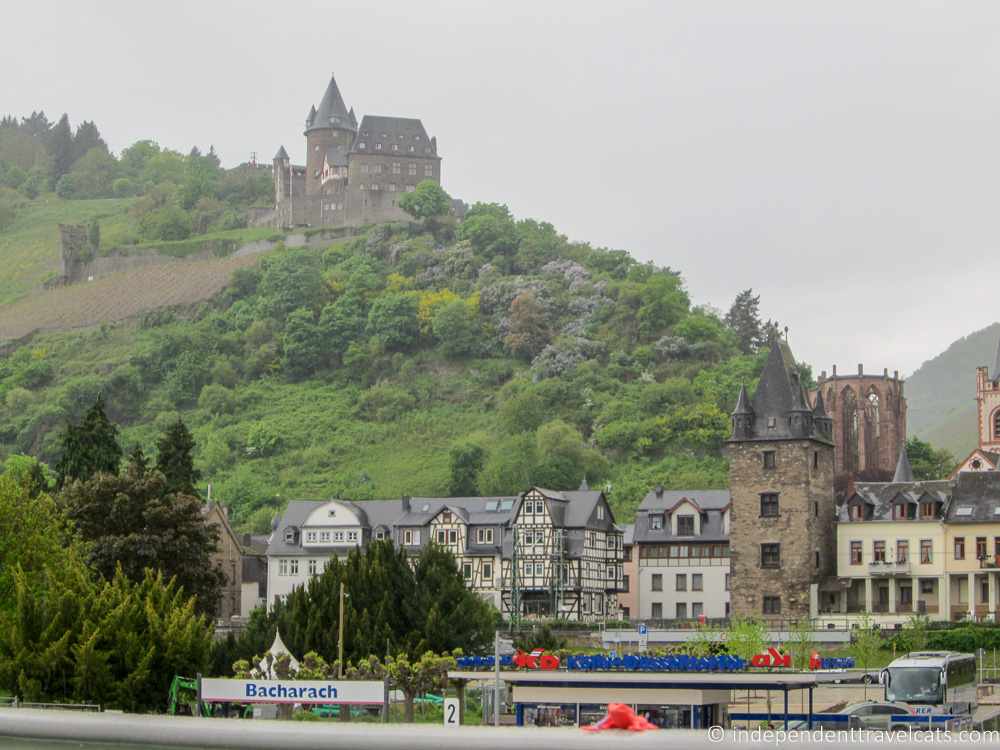 Contributed by Jessica Norah from Independent Travel Cats
Bacharach is a small picturesque town in the Rhineland-Palatinate state of Germany. It is best known for its timber framed houses and 12th century castle that sits on top of a hill above the town. It is a popular postcard town along the Rhine River.
Although there are no must-see attractions here, it is a great town to spend a couple of hours walking around and exploring. Some of the major sites are the old timber framed houses, old market place, ruins of a Gothic church, the old town walls, and the 12th century castle on the hill. There are no tours offered of the castle as it is now a hostel and the inside just looks like a hostel. If you are overnighting here, we can personally recommend staying in Burg Stahleck in Bacharach which offers dorm-style and private rooms.
You can reach Bacharach by car, train, bike, or river cruise. There are several shops and places to grab food and drinks in the town.
Monsanto, Portugal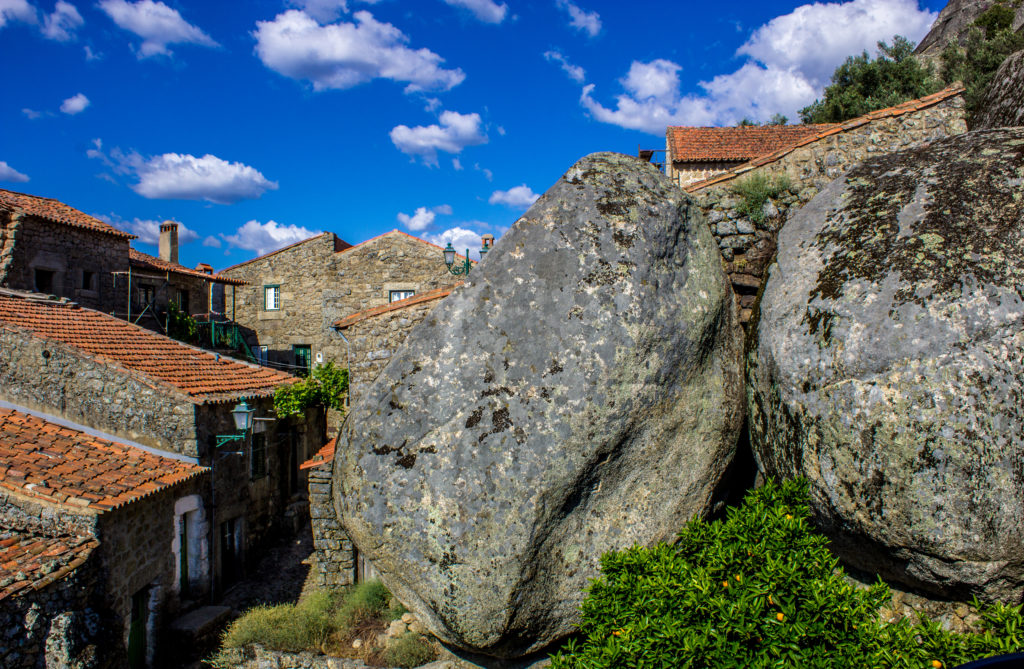 Contributed by Lara & Valter from Heart of Everywhere
Monsanto is one of the most picturesque places you can visit in Portugal.
This tiny village is one of the 12 Historical Villages of Portugal. It has a castle where you can climb to enjoy the magnificent view from the top. But the true beauty of this village lies in its unique architecture where man and nature worked together to create such an unusual place. While strolling around Monsanto it´s not unusual to find a perfect symbiosis between tiny granite houses and huge stones.
The best way to explore central Portugal and its Historical Villages is by renting a car. The closest cities to Monsanto are Castelo Branco, Fundão and Covilhã.​
Delft, Netherlands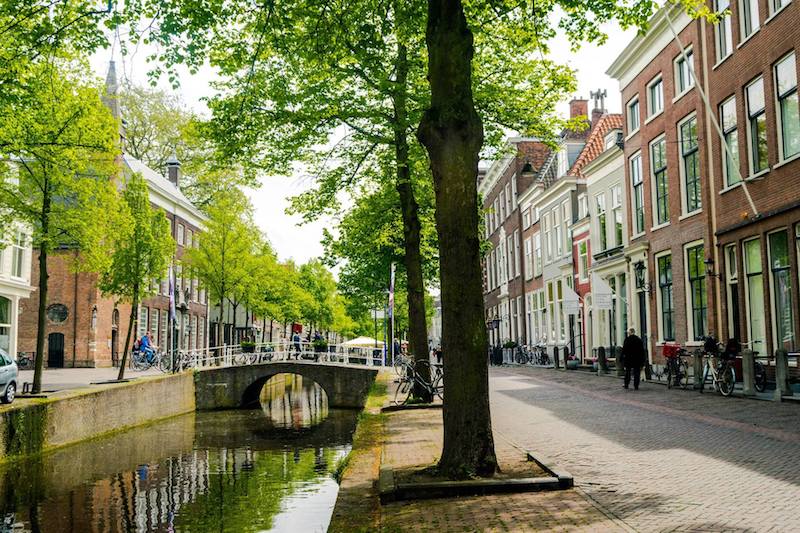 Contributed by Karen from Wanderlustingk
Delft is a picturesque town that is an easy day trip from Amsterdam in the Netherlands. Anyone who has heard of Delftware might have heard of Delft, however they may not realize that Delft has beautiful canals and architecture dating back to medieval times. This university town has a lot more to offer beyond pottery and lovers of vegan food will find many great food options. For the best view of the city, be sure to climb up to the top of the New Church before enjoying a local beer at one of the many cozy beer cafes. As Delft is super small, you can easily stroll across the city within a day.
Cinque Terre, Italy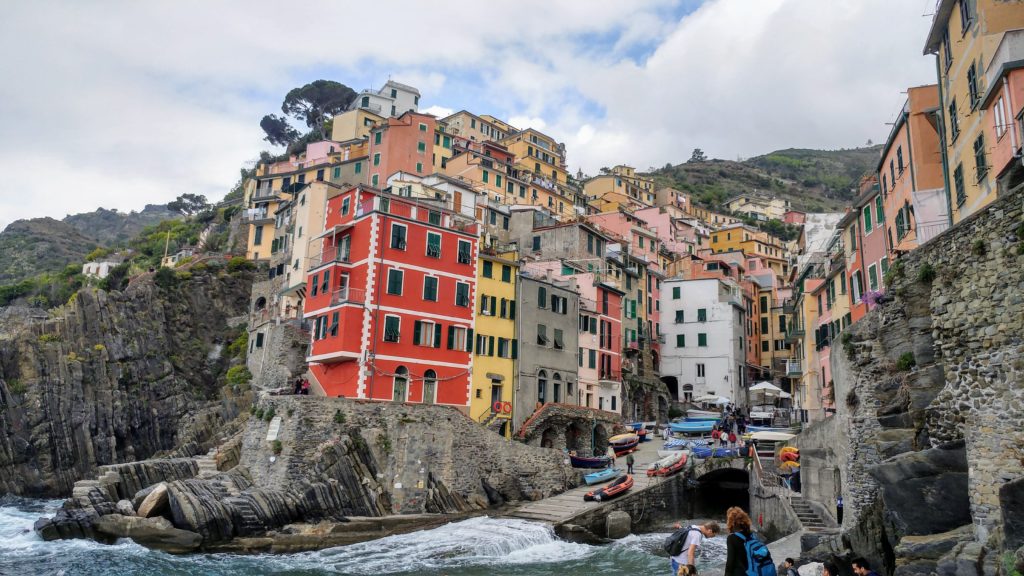 Contributed from Kieren at Got My Backpack
Cinque Terre is not just one destination, but the name given to five fishing villages along the Italian Riviera coastline; Monterosso, Vernazza, Corniglia, Manarola and Riomaggiore. The colourful houses across the cliffs and beautiful hiking trails will ensure a trip to remember.
Without any cars, the best way of getting between the villages is via the local train from La Spezia which runs frequently and stops in each of the villages.
If you get the opportunity, hop on a boat tour to view the villages from the sea, alternatively take to the beaches and try some of the local gelato.
Kotor, Montenegro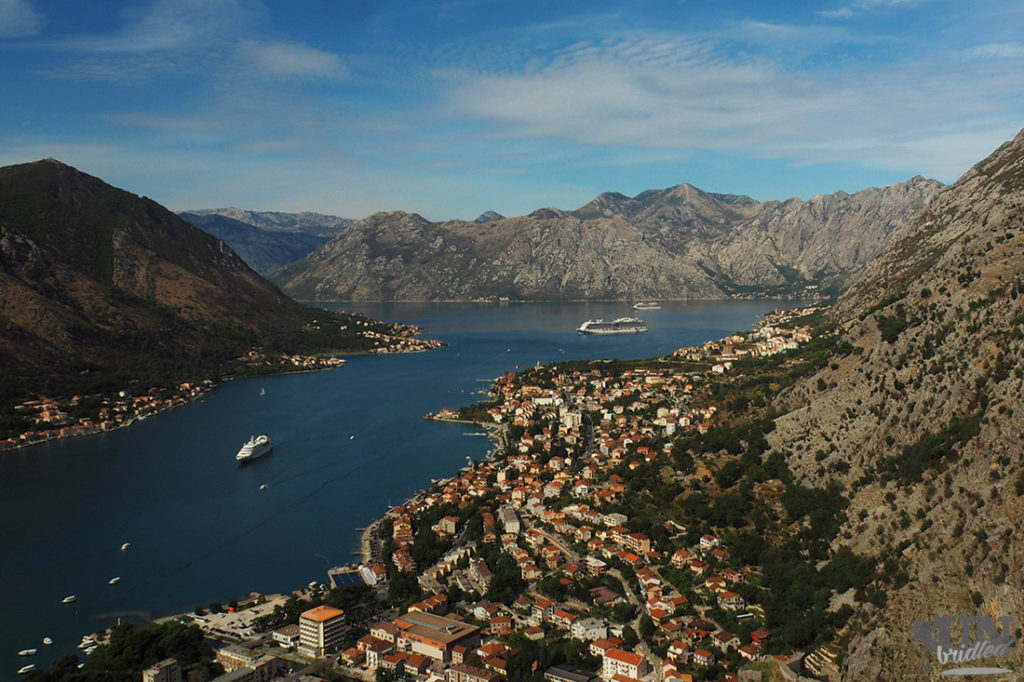 Contributed by Nate from Unbridled
The beauty of Montenegro has made me speechless so times. Especially a small town called Kotor impressed me the most. Located in the Bay of Kotor, this medieval old town makes you feel like you are in a different world. You can spend your day strolling through the narrow alleys and admiring the cute cats. One thing everyone should do is hiking to the Kotor Fortress, which offers spectacular views over the old town and the bay. Believe me, you cannot stop taking pictures and looking at this scenic landscape! Kotor is a pretty small town. So if this doesn't fill your day, you can take a boat tour around the bay and to other gorgeous places like the Lady of the Rocks or the blue cave. However, Kotor itself is one of the most beautiful places in Europe that I would always revisit. Click here to book a day trip from Dubrovnik.
Hopefully this list introduced you to some fairytale towns to visit in Europe. What do you think are the most beautiful European fairytale towns?
---
Need more inspiration for traveling Europe? Check out some of my other articles:
————-
Like this post? Pin it!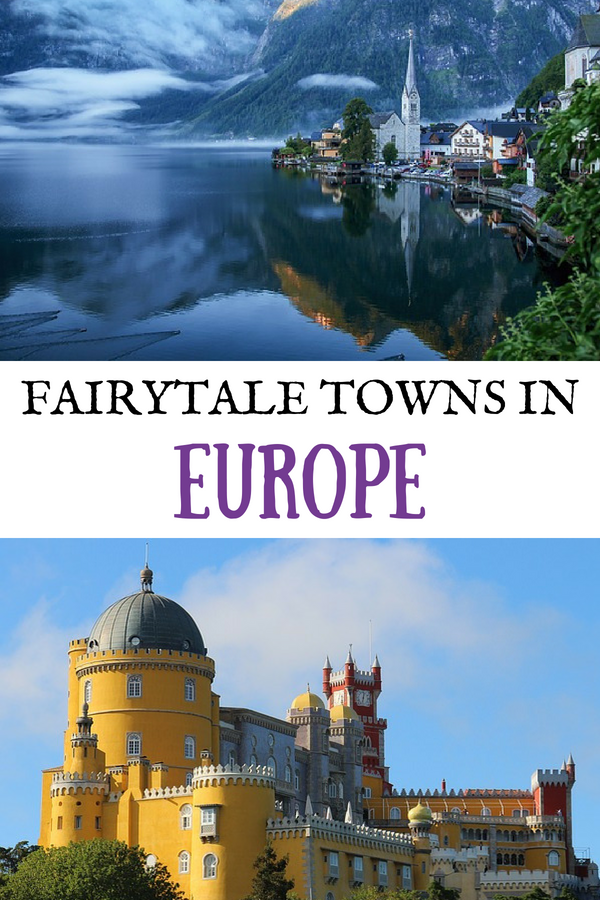 Disclaimer: This post contains affiliate links. This means that should you click on certain links, and then subsequently purchase a product, I will receive a small commission. It costs nothing extra to you but helps keep my site running. Thank you for your support!