If you are looking for a fantastic beach vacation in the Mid-Atlantic area, be sure to check out Virginia Beach, VA. In this picturesque coastal town, you can admire the beauty of the Atlantic Ocean and the Bay of Chesapeake. With seven different neighborhoods, each with its unique atmosphere.
There is truly something for everyone to enjoy here from art and shopping, to sport and relaxation. And of course, there is always the Beach!
Whale Watching
Humpback whales visit the Virginia coast every winter, so set off on a whale-watching tour to catch these incredible creatures. Sponsored by the Virginia Aquarium & Marine Science Center, tours typically last 2.5 hours. You may see not only whales but also other marine animals, such as sea birds, seals, and porpoises. Tours run from late December to early March.
Cape Henry Lighthouse
Head to Fort Story to see Cape Henry Lighthouse, the first lighthouse commissioned by George Washington in 1792. Guests of this lighthouse can climb to the top, which is 72 feet high. However, if you trek to the top, you will be able to admire the surrounding area's fantastic views.
The Boardwalk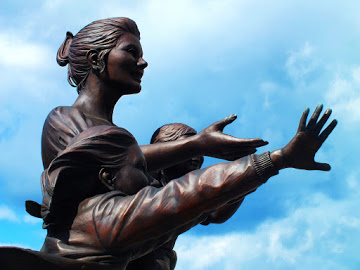 The walkway is a lively experience, no matter if it's summer or winter. Stretching three miles, it's a great place to stroll and watch the ocean. You will also find beach entrances along the waterfront. Take some time to view the surfers or even have a meal or coffee at one of the shops located here.
Virginia Aquarium & Science Center
When the weather is bad on a cold winter day in Virginia Beach, head to the Virginia Aquarium & Science Center for a day of learning and fun. Perfect for a family outing, the aquarium has many practical exhibits for the little ones. You will be amazed during your stay here, as there are sharks, river otters, jellyfish, and many other aquatic and marine species to see. Even during the winter, the aquarium typically puts on new temporary exhibits, so keep an eye on those.
Christmas lights on the waterfront
In the winter season, head to the Virginia Beach boardwalk to see the Beach's annual Holiday Lights. The lights are conveniently positioned, so you don't even need to get out of the car to view them. A perfect way to get into the Christmas spirit, the lights are on from late November to early January.
Take a Kayak Ride
Just south of Virginia Beach's busy Oceanfront neighborhood is Sandbridge, a secluded beach with pristine dunes and calm waters. It is the perfect place for a peaceful kayak ride, whether you want to rent one from a local seller and venture out on your own or participate in a guided tour. For the latter, visit Adventure Kayak Tours and their Back Bay Wildlife Refuge tour. The flat water tour takes you through several eco-environments, including "Cypress Alley" – one of the most scenic areas in the North Bay area.
Chesapeake Bay Distillery
Warm-up on a winter's day with a vodka drink at Chesapeake Bay Distillery. The distillery has a vodka tasting room where you can choose from a variety of artisan vodka. Blue Ridge vodka is a fan favorite, but if you're looking for something different, try ghost pepper flavored vodka, which goes well with a bloody Mary. If you drink responsibly, visitors of the drinking age will enjoy themselves here at Chesapeake Bay Distillery.
Horse riding on the Beach
The Beach may be too cold for sunbathing, but that doesn't mean you can't enjoy it yet. Instead of wearing a swimsuit, go to the Beach to go horseback riding with Virginia Beach Horseback. Book a 30-minute or an hour riding session, where you will trot along the Beach with an expert guide. During the winter, horse riding is offered four days a week.  
Boardwalk Walk  
If you want to be in the center of the action, the boardwalk is the place to be. Virginia Beach's oceanfront neighborhood is where everything is happening: street performers, live music, food vendors, skaters, joggers, bikers, and swimmers sunbathing on the Sandy Beach. And there is no better place to take it all in a 28 feet wide walkway that stretches along the ocean, from 2ND Street to 40th Street. Enjoy it on foot or rent a bicycle or surrey from one of the many vendors. Then, relax with a meal in one of the many picturesque outdoor restaurants.  
Enjoy some fresh fish
If you prefer a quieter and more relaxed atmosphere, go to the city side of Chesapeake Bay, affectionately known by locals as Chic's Beach. Here you will find calmer waters and quieter beaches, as well as a welcoming local atmosphere. You will also find some of the best seafood in the area, such as Chick's Oyster Bar, one of the area's specialties for over 25 years. Watch the sunset over Lynnhaven Creek as you enjoy a bowl of grilled clam chowder or creamy crab soup, fried oysters, fish tacos, or grilled crab cakes from Chick's Signature. Wash it all off with one of their famous "crushes" such as Creamsicle Crush or Skinny Margarita Crush, and you will have the perfect end to your day at the Beach. 
Relax at the Beach 


You can swim in the beautiful ocean or watch the full view while relaxing on the Beach. I would suggest you use a towel that dries quickly so that you can use it to dry yourself and lie in the Beach.   
Watch a variety show or cabaret 
Located right in the heart of Virginia Beach, the area known as Town Center is the place to go for nightlife, entertainment, luxury shopping, and first-class restaurants.
Relax at the Spa
The Inland Virginia Beach area also hosts an abundance of shops, restaurants, and attractions such as Lynnhaven Mall and Virginia Beach Farmer's Market. It is also where the Founder's Inn and Spa is located, a luxury resort that combines modern comfort with traditional charm. The on-site spa, The Flowering Almond Spa, offers a wide range of services, including manicures and pedicures, massages, facials, body scrubs, and more. On the day of your service, you will also have unlimited access to the relaxing natural garden, the fitness center, the saltwater swimming pool, and the Jacuzzi.
Conclusion
Virginia Beach is famous for visiting during the summer. However, the city should not be fired for travel during the winter months as there is still a lot to see and do here. Since the tourist season ends when summer ends, hotels are cheaper, and the Beach is less crowded in winter. You can enjoy a fantastic winter vacation when you experience these mentioned things to do in Virginia Beach.