Every year, millions of people from Germany and other parts of the world go to Munich to celebrate Oktoberfest. The first celebration was held in October, but over the years, it was moved to September. It is the time of the year when Bavaria experiences pleasant weather. Another famous festival in the country is the Stuttgart German Beer Festival. It is held for a total of 17 days starting every last Friday of September and ends on the second Sunday of October.
You will find the most famous beers during these two significant events. One will experience not only a variety of beer, activities, and entertainment. Of course, the celebration will not be complete without the famous Bavarian smorgasbord.
To fully enjoy Oktoberfest, try the local beer and food they offer. Bring along your friends, pack your bags, and head to Munich so as not to miss out on the fun. It happens only once in a year, so be sure to make the most out of everything when in Munich.
Ein Mass Bitte!
A beer, please! These are the three most important words you should learn when in Germany. What is Oktoberfest without the Munich beer? And while you're in it, go all the way for the one-liter stein. Choose between the five traditional beers such as Lowenbrau, Hofbrau, Augustiner, Paulaner, and Hacker-Pshorr.
Remember that drinking beer is taken seriously and well-respected by Germans. Hence, consuming it in large quantities is necessary for you to appreciate this tradition. You have the option of having soda, but where's the fun in it? What you can do is to order a radler, which is a drink containing equal parts of beer and cola. It will help you go through the day without passing out.
Brezen
Oktoberfest food will never be complete without a brezen. It is Germany's soft, freshly baked pretzel covered with rock salt. The fantastic thing about this pretzel is that it's the same size as your face! You can enjoy this fried food with either butter or cheese dip.
Brezens are common in Germany that they are served whatever the occasion may be all year round. Never leave Germany without having a taste of this most-loved twisted bread and the best food to come out of the country.
Würstl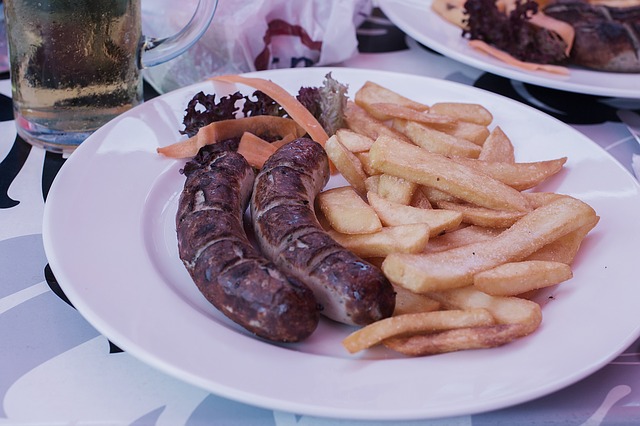 There can never be a better pair for beer than sausages. Commonly seasoned with salt, white pepper, and mace, the würst plate is composed of a variety of the best German sausages you could ever think of. Here are the various Bavarian sausages you will find on your plate if you happen to be in Munich during Oktoberfest.
Blutwurst – diced and cooked pork fat and blood that can be served either hot or cold.
Bockwurst – white sausages that contain finely ground pork and veal seasoned with leeks, chives, or green onions.
Bratwurst – meaning "farmers' sausage" is an all pork sausage that can be fresh or smoked. This sausage may also contain veal.
Cervelat – heavily seasoned large smoked sausages served poached or as cold cuts.
Frankfurter – as the name implies, this narrow-shaped, smoky, and mildly seasoned sausage came from Frankfurt. It is typically made with pork with natural sheep casing.
Knockwurst – smoked fat sausages from pork and veal, with strong garlic flavor.
Whatever way you cook these sausages, broil, grill, or fry, you can enjoy them more with slices of German bread, mustard, warm potato salad, bacon, and of course, Munich beer.
Spaetzle
If the US has its mac n' cheese, then Germany has its spaetzle. It is an egg noodle dish smothered with cheese sauce. It is a pasta baked in the oven and topped with crispy fried onions. Thus, the recipe gives a rich, creamy, and crunchy feel in your mouth.
The pasta was originally shaped by hand or with the use of a spoon. However, over the years, mechanical devices have made pasta making it faster and a lot easier. The spaetzle batter consists of three main ingredients – eggs, flour, and salt. Some add water to create a thinner dough.
Goulash Soup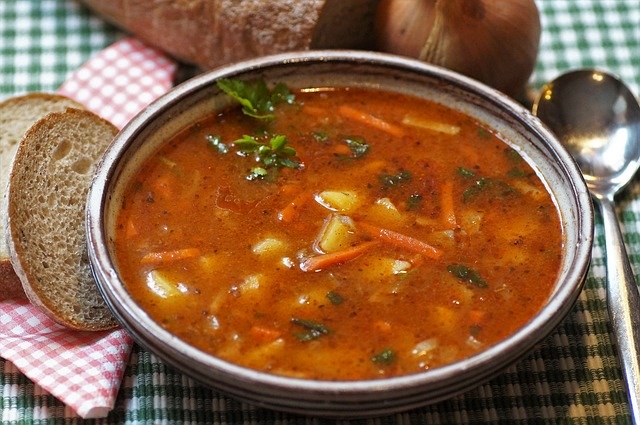 Goulash is a soup or a stew made out of meat like beef and pork, with tomato broth. One may also add potatoes and root vegetables. But never forget to put in some lard, bacon, onions, and the most important ingredient of them all – the paprika. Other seasonings you may use are wine, bay leaf, thyme, or caraway. A simple tip, never use flour to cook this soup.
So to warm up your body and soul, try the goulash soup. It is the perfect dish after a long day of drinking beer.
Apple Strudel
Any meal will not be complete without a dessert. The apple strudel is one of the popular pastries in most European countries. If you are attending the Oktoberfest, don't forget to pick one and have a bite of this crispy baked filo pastry filled with hot stewed apples. You can enjoy it with fresh cream, ice cream, or cold custard sauce. No matter what you choose with your apple strudel, it is the sweetest thing you can have after sipping glasses of cold, bitter beer.
Unfortunately, the 2020 Oktoberfest has been canceled due to Covid-19. However, it is the best reason to look forward to next year's Oktoberfest in Munich. As early as now, you can practice your German language and familiarize yourself with their various cuisines. Everybody can't wait for next year and see what Oktoberfest will bring in 2021. It is expected that everybody will be seeing each other in Germany by then. Prost!