Dalmatian islands are best enjoyed on a yacht with a couple of friends, as a couple or a large group. It's a great way to see the many beautiful destinations in this region. Croatia is becoming an increasingly sought-after place to visit and is becoming ever more a European tourist hot spot. There are lots of ways to visit and explore this spectacular place but here is why you should consider an amazing sailing cruise in Dalmatia.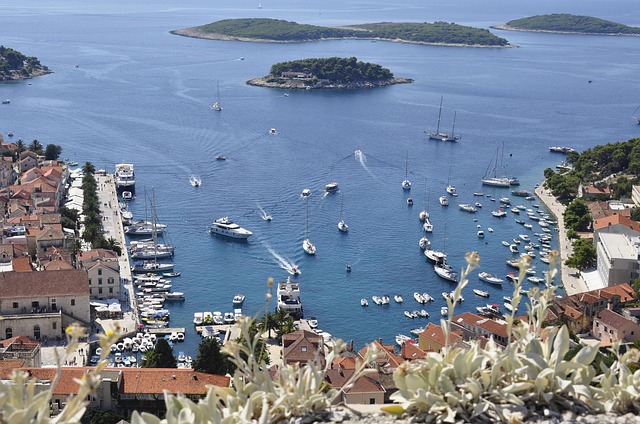 Image from Pixabay.com
Why sail in Dalmatia? 
This beautiful stretch of coastline has a lot to offer its visitors. From crystal clear seas, a lovey warm climate and plenty of essential breezes to take you swiftly on your way whilst sailing. There's so much to see and do, and you can have a varied holiday with so many different destinations. Enjoy the amazing fresh Mediterranean food and wines including olive oils, seasonal fruit and vegetables, and delicious fresh fish. Discover the amazing natural environment of stunning coastlines, lush green national parks and overall unspoilt beauty. Not to mention the vast interesting history you will find here.
What kind of sailing holiday should you book? 
Bareboat charters 
This kind of sailing holiday is where you and your fellow travellers sail the yacht alone.  You can follow your own course and have the chance to travel at your own pace.  You can either choose a circular or one-way route depending on who you book with and where the yachts are based. This is an excellent choice for experienced sailors who want to go it alone.
Flotilla holidays  
Flotilla holidays are where you sail your own yacht, but the yachts travel in along with by a Lead Yacht with a professional crew to provide help and assistance.  You usually choose a fixed route and travel along with around 10 to 12 yachts. Even if you are new to sailing you can still take part in a flotilla holiday. You will be given full instruction on your first day and then briefed every day before setting off to sail. This is a great choice if you want to have some freedom but still the back up of qualified crew nearby.
Crewed Yacht Charter 
You'll have a choice between skippered charters and crewed charters. Skippered charters are a yacht from a fleet with a professional skipper, also called an assisted bareboat. Crewed charters have a professional skipper to sail the yacht plus they have at least one other member of crew.  Services provided can range from including basic meals and cleaning services to full on five-star service. Prices vary depending on which kind of experience you choose.  
When to go? 
The best months to visit Croatia are between June and September, and like nearby Mediterranean countries, Croatia's peak tourist season in the hottest months of July and August. If you want to avoid the summer crowds then visit in June or September, when the weather is still warm and restaurants and hotels are still fully open. These are usually the best time for sailing too.
Where to visit?  
Below are some destinations that you might want to include in your Croatia itinerary.
Brac Island 
This is the largest island in Dalmatia, separated from mainland Croatia by the Brac channel and easily reached from the port town of Split. The main town here is Bol which is a haven for water sports enthusiasts at the horseshoe shaped Zlatni Rat beach. The mountainous landscape makes it a great stop to enjoy some energetic outdoor activities.
Hvar Island 
A well-known summer destination in Croatia, Hvar is popular for many reasons. Whatever you want in your stop here you can find it. The warm Mediterranean climate and natural beauty make it a great place to relax and unwind. If it is history you are after then you'll enjoy the rich culture and traditional architecture of the towns. Want to let of some steam and party? Well Hvar is also known for its exciting nightlife. Do bear in mind that due to its draw, there are always lots of visitors so the island can be very busy especially during peak season. But that is the great thing about exploring by yacht, you can find an anchor point perfect for you.
Korcula Island 
An excellent choice of place to stop off in Dalmatia, especially if you like exploring historic towns. The towering medieval fortress which surrounds the Korcula town is a popular attraction for tourists who visit today. You can climb to the top of the towers and take in amazing views across the historic old town and the sea. Back in the town you can explore the winding old streets and grab a drink or a bite to eat and watch the world go by. The rest of the island is interesting too, you'll discover sprawling vineyards and olive groves as well as pretty quaint villages. By exploring by yacht, you can find your way to more remote parts of the island and find hidden coves and bays.  
Dubrovnik 
The old city of Dubrovnik is one of the most popular tourist hotspots in Croatia. A fairy-tale destination with lots of history and beautiful architecture, not to mention a famous movie and tv filming location. There are plenty of amazing viewpoints, beautiful churches to visit, museums and historic buildings.  You can also visit the nearby Lokrum island, a lovely lush green island great for hiking and getting out of the heat of the city.
If you would like somewhere quieter to stay but still be able to explore Dubrovnik, there are many lovely villages along the coast nearby. Milni is a small fishing village with beautiful, natural beaches with pure blue sea surrounded by lush vegetation. Also, nearby is Cavat which is a lovely town to visit if you want somewhere not so busy compared to Dubrovnik. This place is full of history, beautiful countryside and beaches. There's plenty to do and should be considered as another place to stop when sailing in Dalmatia.
Mljet Island 
This Dalmatian island is Croatia's most southern large island and also the greenest. Half of Mljet island is an unspoiled national park. There are not many people who live here, no large towns and only one major road. Making it a very peaceful and relaxing place to visit.
The pretty coastal villages such as Pomena, Polace, Sobra and Saplunara are excellent for hiking, biking, swimming and exploring the amazing scenery and serene atmosphere. In myth it is said that Odysseus came and stayed on Mljet for seven years and you can visit the Odysseus cave here today. The cave is actually a large and beautiful grotto. The surrounding waters are also great for scuba divers. 
Would you choose a sailing holiday on the Dalmatian coast? 
With all these spectacular destinations at the tip of your fingers of course you are already considering your next sailing trip in Croatia. There is so much to see and do and by visiting on a sailing holiday you will get to see so much more from the sea than you would by travelling in any other way. Which kind of sailing holiday would you choose and what would your Dalmatia itinerary be? Its not an easy choice but I'll leave that with you!