You have a long trip ahead of you in a couple days and you start to think about packing everything you need. You take a deep breath, but the nightmares of your previous trip still haunt you when you packed too many things that you did not actually need, and you paid exhorbitant excess baggage fees for going over the prescribed luggage allowance.
The first thing that pops into your head is, "What went wrong when I packed the last time? Was it my luggage? Was it the fear of not having enough clothes? Or was it that the way I packed which was wrong?"
Yes, these are all various reasons as to why your packing might have gone overboard. But there are ways to remedy your problem. Below are four important tips that travel experts say are key to packing light for a long trip.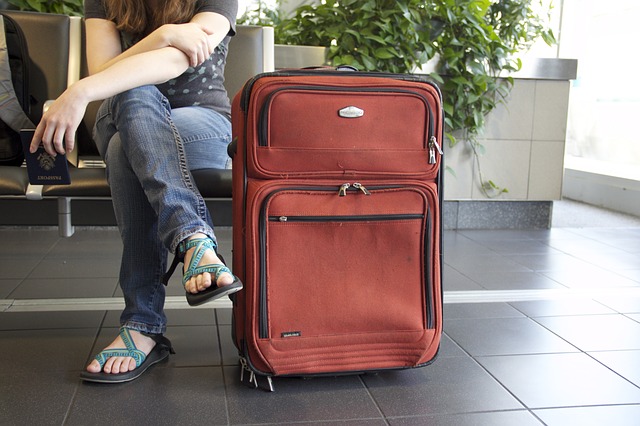 Tip #1: Always, always choose the right type of luggage.
Choosing the right luggage is key to packing light for a long trip. If you buy luggage that is bigger than the size needed to accommodate the weight you are permitted to carry, then there is obviously a bigger possibility that you will overpack. The basic principle here is "more space, more risk".
For a short trip you might be able to manage with a single carry-on bag, but for long trips usually both a carry-on and check-in bag is required. To maximise the packing space, it's essential to buy luggage that is lightweight so you are not using up too much of your baggage allowance for the empty bags.
Lightweight bags don't mean they have to be made of an ugly black space-age fabric. Retailers like Luggage Direct have some very fashionable branded bags that are both lightweight and easy on the eye, and you can check out the weights of the empty bags on their websites where you can compare the specifications of different brands.
Go for the smallest capacity into which you can fit the required weight, the only exception being when you are traveling to cold climates and will be carrying bulky clothes that don't weigh a lot.
Tip #2: Consider a wardrobe fabric check.
When you pack for a long trip, you will always start with your clothes. There is a tendency to choose first what you think will look good, or what you feel most comfortable wearing, but really the first thing that should be considered is the fabric of the clothes that you might want to take. Your clothes' fabric material is a significant factor when attempting to reduce luggage weight.
When traveling to cold climates, consider buying clothes made of merino wool. The fabric texture is soft and fine, making it both lightweight and warm at the same time. Jackets made out of high-quality merino wool will keep you warm in the cold while not taking up too much of your luggage volume.
For undergarments, synthetic materials are always a better choice over cotton. Clothing made out of synthetic materials is generally lighter, easier to fold, and quicker to dry, which is especially beneficial if you are doing laundry on the go. For those who find that polyesters and nylons make them perspire, there are a number of new fabrics on the market that are as comfortable as cotton to wear but much lighter.
Tip #3: Having the right travel mindset
Most travellers who overpack have the infamous "just in case" mindset. While it is great to have peace of mind that you are bringing everything that you might need (because finding some things when you are out of the country will invariably be difficult) this mindset is the primary cause of overweight packing and can cause lot of stress when checking in for flights.  
The only way to travel lighter for a long trip, is to set your mind instead on the "must haves". Packing light inevitably requires sacrifice, and the important point here is to be ruthless about deciding what is really necessary. Remember that when traveling you are not going to be seeing the same people everyday, so it doesn't matter if you are wearing the same clothes every second or third day.  Nobody is going to know except you.
Most people with a 'just in case' mindset say, "you never know…", but it's easier to just set a budget for emergency purchases rather than lugging around items that you might never need. If and when an emergency does occur, you can resolve the problem as it occurs, knowing that you had already set aside something to cover that.
Tip #4: Layer your clothes properly
Layering is simply a technique of dressing with up to 3-4 thin layers (less in warm climates) rather than one or two thick layers of clothing. It's a technique that most expert travelers have learned to do over the years because it reduces the bulk of clothes that have to be packed. This in turn can reduce the weight of clothes being carried.
Layering is easier to do for men than women of course, and requires a little bit of practice to get it looking right.  There are hundreds of informative vidoes on the web about how to layer successfully, but for travelers the key is to keep the color schemes to just one or two, and for women to use some simple lightweight accessories to keep outfits looking fashionable.
Choose clothes that are as basic as possible so you have the flexibility to mix, match, and layer your clothes instead of packing different outfits. Lightweight knits work well in all but the hottest climates. The art of layering does require logic and a keen eye for detail and color schemes, but as soon as you master it, you will be able to travel light all the time.