As one of the most picturesque cities in the world, it's no wonder San Francisco is a super popular tourist destination. With spectacular landmarks and hidden gems, there is so much to explore, especially in the evening time. If you're planning on visiting America anytime soon, then you certainly need to factor in a trip to the Golden City. Grab your favourite travel companion and indulge in a short or long stay in this lively hot spot. Check out the best bars and catch a baseball game for good measure; there are so many exquisite evening experiences waiting for you in San Fran.
Haunted and Historical Experiences
If you haven't already heard of the famous Haight Street in San Francisco, then you need to get in the know! According to locals and experts it is majorly haunted and many tourists choose to visit haunted haight for a thrilling experience. If you are a paranormal enthusiast you should definitely consider an evening tour around the neighbourhood. Although you might be a little scared to embark upon this evening adventure, you are bound to discover some interesting historical facts about this dark and demonised area of the city!
Gorgeous Golden Gate
At night time the Golden Gate Bridge is beautifully lit up like never before. It would be a shame to miss out on such an iconic landmark so take your camera with you and your best smile too! It's a must do activity that is completely free, so you won't have to worry about spending your extra holiday money on this exciting evening experience.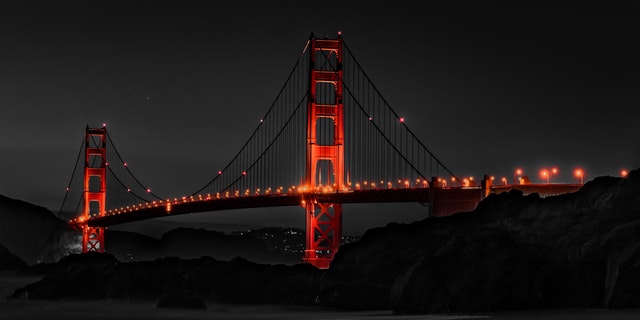 Image Source:
Brilliant Bars
Discover your favourite San Fran restaurants and bars, such as the Ritzy Hotel Bar. It's a sophisticated and smart place that only seats a handful of people, so make sure you get your reservation in early. The stunning backdrops of the bar make the ideal Instagram worthy posts and their wine is delicious too.
Awe-Inspiring Alcatraz
A tour of Alcatraz at night gives you an experience you wouldn't get during the day. As well as it being much quieter, you will be able to see things in a much more mysterious and haunting light during the evening. You can often book tours for just a small group of people, so this is the ideal way to experience this piece of history intimately.
Go to a Game!
Everyone deserves to experience a night time baseball game at some point in their life, so this is the perfect opportunity. Treat yourself to a classic hot dog and beer combination and soak in the atmosphere of the Giant's ballpark.
As soon as you have experienced the wonders of San Francisco at night, you will never want to leave. Make sure you plan out your trip in detail so you don't miss any of the best activities in the area. Snap a candid picture outside the beautifully lit Golden Gate Bridge and experience Alcatraz at night like never before. You will come home with a bucket load of memories that you can treasure forever.