A pop-up gazebo is a perfect accessory for any camping trip. It can be put to so many uses that you'll wonder how you ever managed without such a lightweight and easy-to-assemble piece of kit.  Here are just a few of the ways it can help make your trip more comfortable.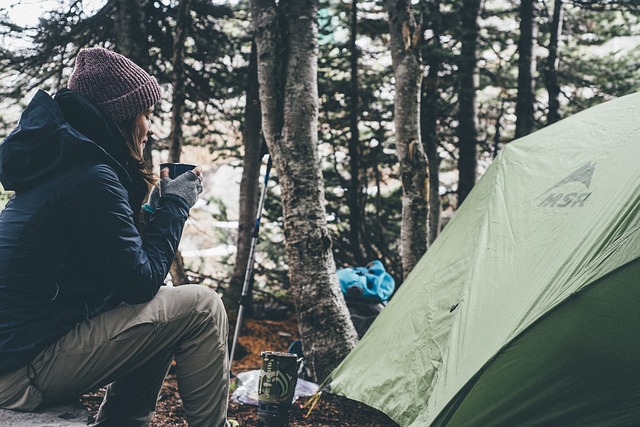 Weather protection
Even with just a frame and roof, it's easy to create a much-needed sunshade. Whether you're at the beach or in the mountains, your gazebo will help you and your companions stay cool, safe from sunburn and dehydration.  Or, if you're camping in a location where you're more likely to need a rain shelter, sit under your gazebo, relax and enjoy a few drinks until the downpour stops.
Changing room
For picnics and short trips, when you don't have a tent, a pop-up camping gazebo with walls will provide the privacy you need and makes a perfect changing room.
Dine in style
It's also the perfect space for setting up a picnic table. Food stays cooler in the shade, and with a gentle breeze, and you'll stay comfortable and relaxed in your dedicated dining space. At night, thread some flexible LED lights around the legs and roof to create a really magical atmosphere.
Organize your space
On longer trips, keeping all that gear organized and easy to find can be a challenge, especially after the first couple of days.  If you leave your kit in the tent, it's hard to keep tidy. A gazebo provides space to store your essentials out of the sun or rain, within easy reach.  It's an ideal space to store your games, sports equipment, surfboards, etc.
Years of use
Once you've realized how useful it is, your pop-up marquee can expect some pretty rough treatment.   It'll be slung into the trunk, carried and dropped, erected and packed away.  It'll be put up in varied terrain and varied weather conditions.  It'll need to be strong and durable, as well as lightweight and very easy to assemble and secure.
A pop-up gazebo could cost you $100 or $1000. Even if you're only planning on camping a couple of times per year, invest in the best that your budget will allow.  A cheap, flimsy unit might seem like a bargain, but it's the same as with all your gear.  You need it to perform.  Will it withstand extremes of weather, humidity, dust, or even mud thrown its way? Come to that, will it withstand rough treatment from your family? If you can't be sure, choose a different model.
What do you need to look for when purchasing a pop-up gazebo for camping?
Choose a durable frame.
A camping gazebo frame needs to be lightweight, but tough. Once the frame rusts, bends, or breaks, its useful life is over. Ensure your gazebo frame is constructed from a resilient, material such as aluminium, which won't rust and will continue to perform for years.  Also, lookout for a warranty on the frame – 5-10 years should come as standard.
Choose a gazebo with a strong cover.
Most camping gazebo covers are made from PVC or polyester. Polyester is lightweight, but not strong, so may be prone to tearing. If this happens, it can be patched with tape, so the gazebo will still be usable, but it's not going to look great.  PVC is more durable, but the trade-off is that it's much heavier.  Both fabrics are waterproof, but polyester may not offer the same degree of UV protection as PVC and is more likely to fade in strong sunlight.
Ensure it's easy to assemble.
There should be no struggle. Your pop up marquee should be engineered as an all-in-one and do exactly what it says –be ready to go within a few minutes. No tools needed, no spare parts, no expertise required.  It should be equally easy to disassemble and pack away.
Prepare for all weathers
The only weather condition you really need to consider is the effect of strong winds. Check the maximum wind speed the model can withstand.  Beyond this limit, camping gazebos can easily be lifted from their moorings and carried by the wind, which would be dangerous for anyone in the vicinity, and most likely damage the roof or frame.  If this is a concern, you'll need to purchase some additional leg weights to secure it.
Keep these points in mind when you're choosing your pop up gazebo, and you'll be sure to enjoy this versatile camping 'must-have' for years to come.