Spending time together as a family is important for kids and adults alike. Sharing activities as a family can improve children's mental health, help families keep their close bond, and create memories that will last a lifetime. 
Even if you know the importance of family time, it can be hard to come up with fun things to do with your family. As a parent, you want to find family activity ideas that your kids will love, but that you will also enjoy.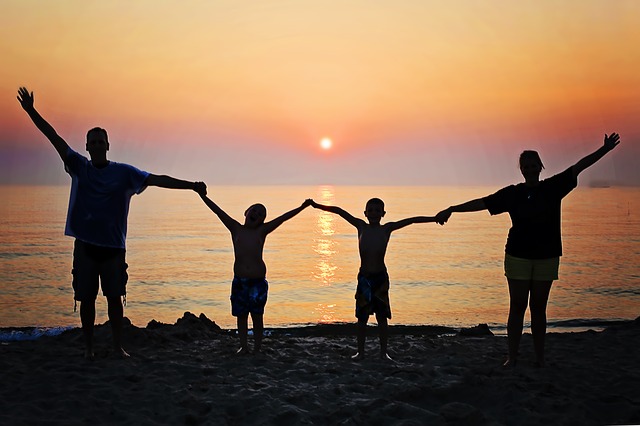 Finding things to do with family shouldn't be a struggle. Once you have a list of ideas, you'll have endless opportunities to share positive experiences. 
Below, we are sharing nine family activity ideas that you will love sharing with your kids. Read on to learn more about activities that will bond the whole family together. 
Go on a Family Hike
When the weather is nice, going for a hike is one of the best things to do with the family. It gets you and your kids outside and allows you to disconnect from your normal hectic lives. You can spend time getting physical activity surrounded by the natural scenery of your chosen hiking trail. 
Depending on the age of your kids, you can choose a hike that's as short or as long as you like. You want everyone to feel like they can easily traverse the trail, so don't pick something too hard that will have the kids complaining. 
Be sure to bring water and snacks, and enjoy the opportunity to have a conversation and catch up with your kids! 
Have a Game Night
A little friendly competition can actually help bring your family together. A family game night is a fun way to get everyone away from the television and enjoying a new activity together.  
When you're selecting games to play, choose some that require players to work as teams. Those types of games are a fun way to practice communication skills and bond together over a shared goal. You can switch up the teams as you play, so everyone has a chance to partner with everyone else.   
If your family does not want to play at home you can visit an escape game or room.  An escape room is a fun way for families to work together to find a way out.
Go to the Farmer's Market
One of the best Sunday family activities is to take a trip to a local Farmer's Market. These family-friendly environments sometimes feature live music or entertainment and are a great way to explore the neighborhood. 
To make the outing even more fun, let your kids pick out one item that look especially good to them. When you get home, challenge yourself to make a recipe that incorporates the ingredients they selected. 
Being involved in the ingredient selection will make kids more interested in the cooking process as well, so you'll have another chance to bond as you prepare a meal together! 
Take a Class
Learning something new together and be a great experience for a family, because everyone will start out as an equal. When you try a new activity, you learn about each other's strengths and weaknesses and can find ways to help each other succeed. 
The next time you're looking for things to do with your family, consider a local family-friendly cooking class, arts and crafts class, or yoga class.  
Take a Family Trip
Some of the best family memories are created during family trips. When you don't have familiar surroundings to fall back on or other friends to call up and spend time with, you get the opportunity to connect as a family on a deeper level. 
Out of town vacations are also a great opportunity for a family reunion, especially if your extended family is scattered across the country. You can pick a location that is new for everyone, and meet there to enjoy time together. 
Spending time with cousins, aunts, uncles, and grandparents will make the family bond even closer. 
Volunteer Together
Setting up a volunteer day is one of the best family activity ideas because there are so many benefits. You'll be spending time together as a family and creating that important memory. As parents, you'll also be showing your children how important it is to give back. 
There are likely lots of different volunteer opportunities in your community, so you can find one that taps into your children's interests. If they love animals, you can volunteer at a local shelter. If they love being outside, you can volunteer cleaning up trails or working in a community garden. 
Volunteering can also be emotional for kids, so set aside time after the experience to talk about what they're feeling. 
Plan a Garage Sale
It always feels good to get rid of clutter and sell unused items, especially if you do it as a family. While it may be easy for you to identify items that you're ready to part with, it can be more challenging for children. 
Give each of your kids a box or bin, and ask them to fill it with items that they no longer use or think someone else needs more. To encourage their participation, you can have them make signs to advertise the sale or help you set up the day-of. 
Once the garage sale is over, you can use a portion of the money earned on a treat for the whole family, like getting ice cream or going to a movie together. 
Visit a Museum
If your children are old enough for an art museum, spending an afternoon at an exhibit is a great way to expose them to new culture. Art is open to interpretation, which means there will be lots of moments of questioning and conversation. 
If an art museum isn't appropriate, look for a children's museum or zoo in your area. These educational institutions are always kid-favorites. 
Create a Family Scrapbook
If you need rainy day things to do with family, considering putting together a family scrapbook. Ask your kids to collect favorite photos or mementos they've kept from trips you've taken and family outings. 
Once you've collected all your items, you can put them together in a binder or book. Add captions and dates so that you always remember where you were, what you were doing, and when it was. The scrapbook will quickly become a keepsake you look at again and again. 
Want More Family Activity Ideas? 
When you have the opportunity to share a new experience as a family, you should take advantage of it. A family activity can help you reconnect, and will create lasting memories. 
For more tips on traveling as a family and other activities, please browse the blog.