Planning 3 days in Chicago and seeking the perfect itinerary? I have lived in Chicago almost my entire life so I have created the perfect Chicago 3 day itinerary with the best things to do, best places to eat, where you should stay, and all of my top tips, so that you can spend less time planning and more time enjoying the Windy City.
There is so much to do in Chicago but 3 days is enough to see most of Chicago's top attractions.  I have grouped each day by neighborhood so you don't have to waste a lot of time getting around.
3 Days in Chicago Itinerary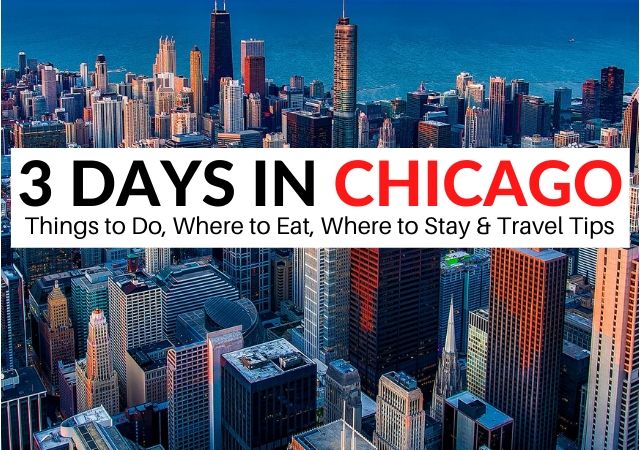 Disclaimer: This article contains affiliate links. I may make a small commission if you make a booking using my links at no extra cost to you.

3 Days in Chicago – Day 1
Lets start Day 1 in Chicago by enjoying some of the best views Chicago has to offer.
360 CHICAGO
For panoramic views of Chicago, head to 360 CHICAGO (formerly John Hancock Observatory) a public observatory on the 94th Floor of 875 N Michigan that offers breathtaking 360 degrees views of the city skyline and Lake Michigan.
If you prefer to enjoy views over a meal or a drink, 875 North Michigan Avenue has a restaurant on its 95th floor named the The Singapore Room at the 95th and a bar on the 96th floor called The Signature Lounge at the 96th.
The 360 Chicago observation deck is also home of TILT – Chicago's highest thrill ride – an enclosed moving platform that literally tilts you out over Michigan Avenue from the 94th Floor.
Tip: 360 Chicago tends to be less busy and has shorter lines that the taller Willis Tower (on Day 2) but it is still best to visit in the morning to avoid crowds.
Shop (or Window Shop) on the Magnificent Mile
After visiting 360 Chicago walk south on Michigan Avenue and join the throngs of visitors and locals shopping (or window shopping) on the Magnificent Mile. The Magnificent Mile (or The Mag Mile), is an upscale section of Michigan Avenue, running from Oak Street to the Chicago River. Although some of the stores on Michigan Avenue are pricey, it is totally free to window shop. Landmarks on the Mag Mile include the historic Chicago Water Tower, the Tribune Tower and the Wrigley Building skyscraper.
Take an architecture river cruise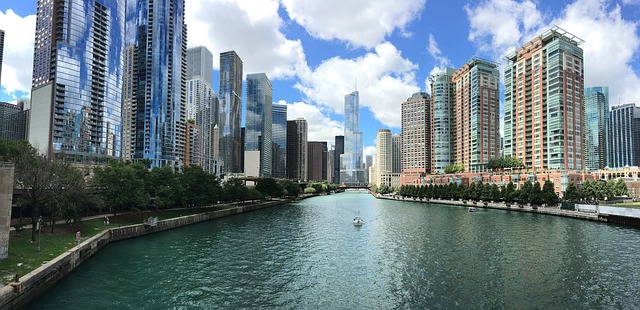 Chicago has amazing architecture and the best way enjoy it is by taking an architecture river cruise.  There are several companies that offer tours but the best ones are the 90 minutes cruises run by the Chicago Architecture Foundation (CAF).  Because the water sometimes freezes, river cruises don't usually run in the winter.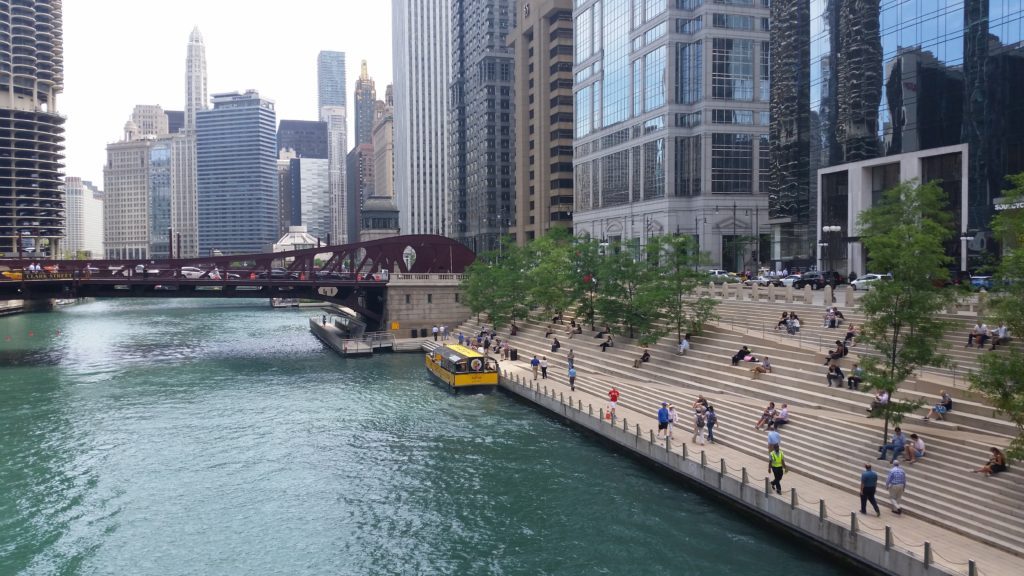 An alternative to a river cruise is to take a walk along the Chicago Riverwalk. The Riverwalk is one of the best spots in Chicago for people watching and there are also restaurants, shops and places to sit along the way.
Go on a Gangsters Tour
Chicago has a long history of organized crime and is famous for being the home of mafia figure Al Capone. There are many mob tours for those that want to learn more about the history of organized crime.
Food or Drinks with a View
Chicago has several rooftop bars and restaurants with amazing views of Chicago.
Cindy's (12 S Michigan Ave) is a restaurant and bar on the rooftop of the Chicago Athletic Association Hotel located across Millennium Park which offers panoramic instagram worthy views of Millennium Park and Lake Michigan. This is a popular spot and the wait for the elevator can be long but if you visit around the time it opens (10 am on the weekends and 11 am on weekdays) you can enjoy the great views without the crowds.
LH ON 22 (85 East Wacker Drive) -Enjoy classic cocktails and small bites from the outdoor LH terrace of LondonHouse Chicago which offers great views of the Chicago River, Lake Michigan and the Magnificent Mile.
The J. Parker (1816 N Clark St) is a stylish bar and restaurant on the rooftop of the Hotel Lincoln with great views of Lincoln Park.
3 Days in Chicago – Day 2
From the highest vantage point of the city to the famous Bean, Day 2 in Chicago will take you to Chicago's best and most famous attractions.
Skydeck at Willis Tower
The Skydeck at Willis Tower (formerly known as the Sears Tower and what locals still call it) is the most well known of Chicago's two tall skyscrapers with public observatories. The Willis Tower is the tallest building in the Western Hemisphere and was the tallest building in the world from 1974 until 1998.
If you are not scared of heights, you can stand on the Ledge's glass boxes that extend out over 4 feet from the Skydeck.
Tip:  Lines for the Skydeck can get very long (especially on weekends) so avoid the crowds it is best to visit first thing in the morning as soon as it opens or in the evening. You can also pay extra for fastpass admission to skip the line or early bird admission (during the weekend only) to enter before it opens to the public.
See the Bean at Millennium Park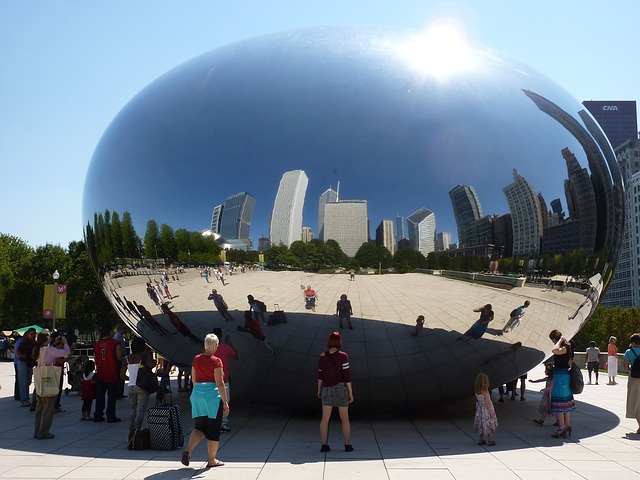 If you have seen photos of Chicago on social media, chances are you have seen photos of Cloud Gate (also called The Bean), the famous mirrored sculpture in Millennium Park.
Although the Bean is very very touristy, don't skip it.  It is one of the most instagrammable places in Chicago and it is a great spot to take photos to remember your trip to Chicago.  The Bean is usually crowded especially in the summer and on weekends so if you want avoid people in your photos visit early in the morning or later in the evening.
The free Millennium Park is part of Grant Park and also includes the Jay Pritzker Pavilion, the Crown Fountain sculpture and Lurie Garden.  In the winter, there is a free ice skating rink right in front of the park. On hot summer days, kids (and some adults) love to splash in the water from the Crown Fountain.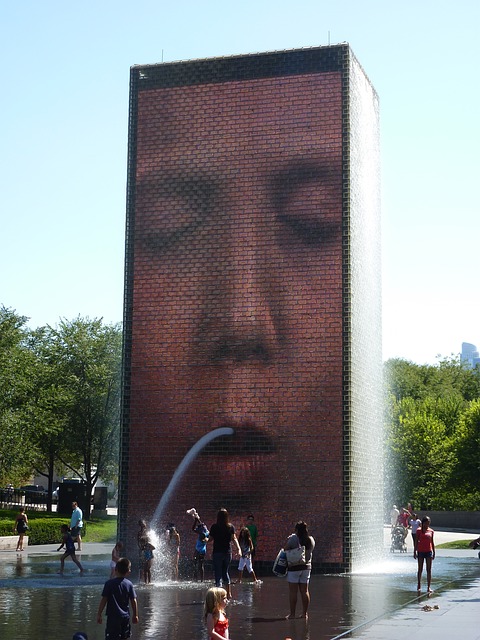 If you are visiting Chicago with kids, you might want to also visit Maggie Daley Park, a large public park connected to Millennium Park that has play areas for kids of various ages, a fieldhouse, climbing wall and another free ice-skating ribbon in the winter.
Art Institute of Chicago
Chicago has many great museums which are worth visiting but my top pick is the Art Institute of Chicago conveniently located next to Millennium Park. It is one of the oldest and largest art museums in the United States and is frequently found on lists of the top museums in the world. (Click here to buy a skip the line ticket if you want to avoid long lines).
Navy Pier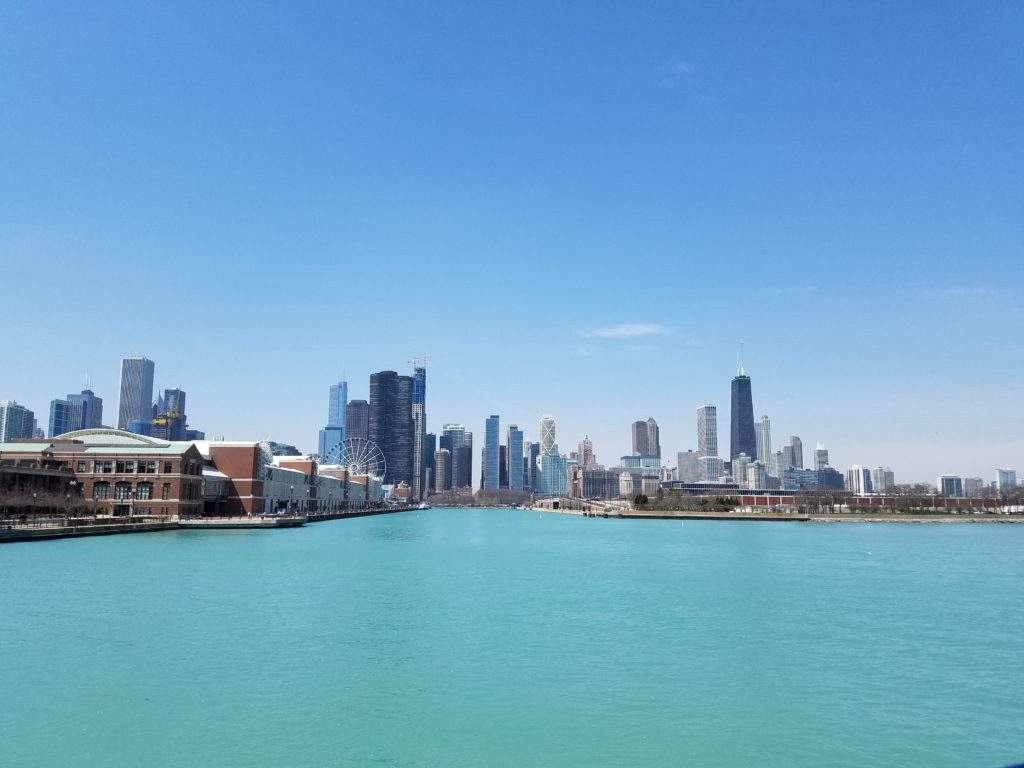 Some locals consider Navy Pier a bit of a tourist trap, but it is a not to missed attraction especially for those visiting Chicago with kids.  Navy Pier is full of fun things to do including a large Ferris wheel, an IMAX theatre, the Chicago Children's Museum, the Chicago Shakespeare Theater and several shops and restaurants (including Giordano's and Garrett Popcorn Shops).  Navy Pier is also the starting point for various sightseeing cruises and boat rides.
If you are visiting Chicago in the summer, you might want to stay or come back in the evening to see the free fireworks at Navy Pier which occur every Wednesday and Saturday night.
3 Days in Chicago – Day 3
Here are my suggestions for your 3rd and final day sightseeing in Chicago.  If you are visiting Chicago on a Sunday morning, head to Maxwell Street Market one of the best places for Mexican food.
Visit One or More Museums at the Museum Campus
Chicago has many great museums which are worth visiting. The Adler Planetarium, the Shedd Aquarium, and The Field Museum all located near each other on The Museum Campus.
The Museum of Science and Industry is located in in Hyde Park and is a bit out of the way from downtown Chicago but it is a really fun museum with hands-on activities and interactive exhibits.
Tip:  If you are visiting a few museums and indoor attractions, consider purchasing a Chicago CityPASS or Go Chicago Card to save money on entrance fees.
Explore the lakefront and beaches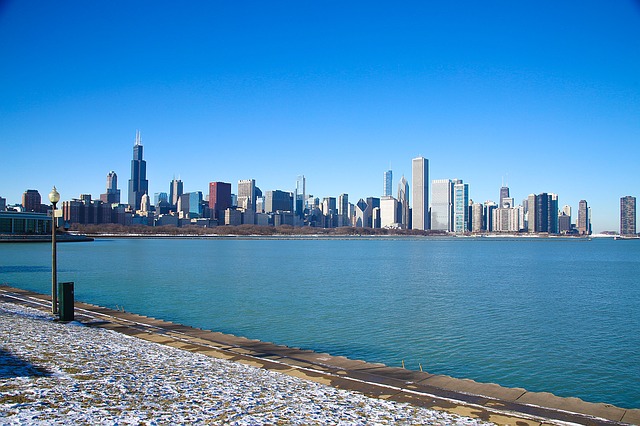 Chicago's Lakefront Trail is a paved path on a 18-mile-long stretch along Lake Michigan and it is a great spot to people watch and get some exercise.  In the summer and weekends, the lakefront is packed with locals and visitors walking, running and riding bikes.
Most people don't think of Chicago as a beach destination but Chicago has many beaches along the lake.  The most popular beaches are located downtown (Oak Street and North Avenue) but they are also the busiest.
More Things to Do in Chicago
If you have more time or not a fan of museums or tall buildings, here are some more fun things to do in Chicago:
Watch a Cubs Game at Wrigley Field (or attend another sporting event)
Chicago is known for their love of their sports teams, so if you are visiting during the season you might want to attend a sporting event. To those unfamiliar, historic Wrigley Field is home to one of the city's baseball teams – the Cubs.  Whether a fan of the Cubs, baseball in general or just a fun atmosphere, a day at the 100 year old ballpark is a must for locals and tourists alike.  You don't need to enjoy baseball to enjoy a Cubs game – it is fun to just soak in the atmosphere while drinking and eating.  (There are also tours of the stadium offered during the off season).
Enjoy One of Chicago's Many Festivals
Chicago always has at least one or more festivals or events happening every weekend especially in summer.  Some Chicago festivals are very well known and attract thousands of tourists, but there are many festivals and events in Chicago where you will mostly find locals. For great food, music and people watching, check to see if there are any festivals or events going on while you are in town.
Walk The 606
The 606 is Chicago's version of The Highline in NYC, an elevated trail goes through 2.7 miles of the city's northwest side neighborhoods: Wicker Park, Bucktown, Humboldt Park, and Logan Square.  It is a bit off the beaten tourist path but it great place to walk, run or bike.  There are several access points so you can get off the trail to explore the various neighborhoods.
Where to Eat in Chicago
Chicago is known for its food so get ready to eat! Chicago is one of the best cities in the world for food and I could easily write a whole post just about the food! Although Chicago is famous for food like deep dish pizza and Chicago-style hot dogs – there is so much more great food in Chicago.  Don't limit yourself to just deep dish pizza and hot dogs, but you should try those if you are visiting Chicago for the first time.
Lou Malnati's and Giordano's are two of the best restaurants for deep dish pizza. Giordano's can be found in several spots throughout the city including Navy Pier, near Michigan Avenue and near Millennium Park.
Pequods – Many locals consider Pequods in Lincoln Park to have the best deep dish pizza in Chicago.  Their version has a caramelized crust.
For Chicago style hot dogs (remember, no ketchup allowed) try Downtown Dogs (one of my favorite understated spots) which is located a few steps away from the John Hancock and Michigan Avenue or Portillos, a popular chain.
Al's Italian Beef (169 W Ontario St.) is famous for its Italian beef sandwiches.
For original Chicago-style popcorn head to Garrett Popcorn Shops, with a location near Millennium Park and Navy Pier.
To get an overview of the food scene consider a food tour:
The Best Time to Visit Chicago
Summer is one of the best (and busiest) times to visit Chicago as the city comes alive and there are always outdoor festivals, concerts and events going on where you can take advantage of the warm weather.  Restaurants and bars open their rooftops and sidewalk patios so you can dine outside. The temperature in the summer is usually hot but not unbearable (but some days can be very hot and muggy).
Winter can be cold and snowy but some years can have mild winters (this year was very mild and only snowed a few times). Late November and December are busy with holiday events and festivities and the temperatures are usually still not that cold.  January and February tend to be the coldest months but attractions are less crowded. Even if you hate cold weather, there are enough indoor attractions to keep you entertained in the winter.
Fall and spring are generally great times to visit Chicago – the popular attractions are not as busy as summer and the weather is usually more pleasant (but temperatures can be very unpredicable).  The weekend before St, Patrick's Day and the weeks during spring break can get very busy but the rest of spring is considered shoulder season.
Personally, I think the best time to visit Chicago is September and early October when temperatures are still warm but not as hot and humid as summer and students are back in school.
Chicago has plenty of things to do year round whatever the season. If you still need help deciding when to visit Chicago check out The Best Time to Visit Chicago – A Month By Month Guide. for more details regarding weather and events by month.
Getting Around in Chicago
Chicago is an easy city to get around in with many public transportation options.  Both Chicago airports Chicago O'Hare (ORD) and Chicago Midway (MDW) are connected to downtown Chicago by train.
Downtown Chicago (where most of the tourist attractions are) is very walkable and you don't need a car to get around.  A hop on hop off bus is a great way to see all the attractions without having to figure out how to get around.  For longer distances you can use public transportation, take a water taxi or rent bikes through Divvy, Chicago's bike share program.  Taxis, Lyft and uber are plentiful and very easy to find.
Where to Stay in Chicago
Most people visiting Chicago stay in the downtown area including the Loop, River North, Gold Coast, Streeterville and Michigan Avenue since they are close to most of the major tourist attractions. If you are visiting during the weekend, the Loop is a great option as it is more quiet at night. River North (where I live) is close to nightlife and restaurants, but noise can be a problem especially during the weekends. Here are some of my top picks for the best hotels in Chicago:
Luxury:
The Peninsula Chicago.  If you are looking for a luxury hotel, The Peninsula Chicago is one of the best hotels in Chicago with a world renown spa and a half-Olympic length swimming pool overlooking the Chicago skyline. It has a central and convenient location right off the Magnificent Mile, close to shopping and less than a block from the Water Tower and 360 Chicago. Click here to see the latest prices.
Midprice:
Hilton Chicago/Magnificent Mile Suites. Recently renovated all-suite hotel with fridge and microwave in room. Great location just steps from Michigan Avenue and one block from Lake Michigan.  Click here to see the latest prices.
ACME Hotel Company. This is a new, modern, stylish and unique hotel located in downtown Chicago 2 ½ blocks from the Magnificent Mile in River North.  Offers great value and great service.  Click here to see the latest prices.
Budget:
Best Western River North Hotel. Convenient located in the heart of River North close to the Chicago River as well as many restaurants and bars.  Amenities include free high-speed Wi-Fi, deeply discounted parking, room service, fitness center, indoor pool and sun deck. Click here to see the latest prices.
These are my top choices for the best things to do if you have 3 days in Chicago.
---
Planning a trip to Chicago? Check out more of my Chicago guides and itineraries:
Like this post? Pin it!