Wandering what to do in Chicago this April? Here are the best things to do in Chicago in April 2021 (from a local).
April is usually a popular month to visit Chicago due to spring break and warming temperatures. For out of town visitors, please note that the weather in Chicago in April is very unpredictable and temperatures can vary greatly. Be prepared for both cooler and spring temperatures as well as rain. Make sure to pack a travel umbrella, layers and and check the weather right before your visit to know what to expect.
Due to current events, a few Chicago indoor attractions might still be closed although most places have reopened. I suggest bookmarking this blog post as I plan to update it regularly with any new information or updates.
Things to Do in Chicago in April 2021
Disclosure: This article contains affiliate links. I may make a small commission if you make a booking using my links at no extra cost to you. As an Amazon Associate I earn from qualifying purchases.
Cubs Home Opening Day
Baseball is back in Chicago this April starting with the Chicago Cubs home opener. The Cubs will be Chicago's first major sports to have crowds in its stadium since early last year. Wrigley Field, the oldest ballpark in the National League, will be limited to 20% capacity (8,274 fans per game). Wrigley rooftops will also be open and will be required to follow latest guidelines for bars and restaurants. Cubs season ticket holders will have an opportunity to secure tickets to games before they go on sale to the general public during the week of March 15 here.
When: Opening Day is April 1, 2021. You can find their schedule here.
Where: Wrigley Field, 1060 W Addison St, Chicago, IL 60613
White Sox Opening Day
The White Sox Opening Day takes place a week after the Cubs home opener. Guaranteed Rate Field, which normally seats just over 40,000 guests, will be limited to 8,122 fans with at least six feet between parties. You can purchase tickets here.
When: White Sox Opening Day is April 8, 2021.
Where: Guaranteed Rate Field, 333 W 35th St, Chicago, IL 60616
See the Immersive Van Gogh Exhibit
From the creators of the blockbuster show at Atelier des Lumières seen by over 2 million visitors in Paris and Toronto and featured in Emily in Paris (one of my favorite travel shows on Netflix), the Immersive Van Gogh Exhibit, is a massive indoor digital presentation of Vincent Van Gogh's artwork. Tickets must be purchased online in advance and they are selling quickly!
When: Tickets for April are sold out but there is still availability for yoga sessions which include a 35 minute Yoga class + 45 minutes thereafter to enjoy the exhibit.
Where: Lighthouse ArtSpace at Germania Place, 108 W. Germania Pl, Chicago IL
Cost:  Tickets start at $39.99 plus fees for off peak times. See https://www.vangoghchicago.com/ for full prices and to purchase tickets in advance.
Take an Architecture Cruise
Taking an architecture river cruise is a must when visiting Chicago. Cruises start up again in the spring (after being on pause in the winter since the water freezes).
Watch Digital Art at Art on the Mart
Art on theMART is the largest permanent digital art projection in the world, projecting contemporary artwork across the 2.5-acre river-façade of theMART. Projections will resume (after a 3 month break) on Thursday, April 1, 8:30 p.m. with the world premiere of The Adler Planetarium's Astrographics.
When: 30-minute program of projections are shown nightly at 8:30 p.m. & 9:00 p.m.
Where: The Merchandise Mart, 222 W Merchandise Mart Plaza, Chicago, IL 60654. Spectators can watch the slow from the jetty section of the Chicago Riverwalk on Wacker Drive between Wells Street and Franklin Street.
Cost: Free.
See the Nom Nom: 40 Years of Pac-Man Design and History Exhibit at Chicago Gamespace
If you didn't catch the @WGNNews spot by @MarcellaWGN of Chicago Gamespace live yesterday, you can learn why Pac-Man endures 40 years after it was made and merits an exhibition here: https://t.co/FDgfSK7UxO

— Chicago Gamespace (@chigamespace) March 1, 2021

Are you a Pac-Man fan? Then you might want to check out the new Nom Nom: 40 Years of Pac-Man Design and History exhibit at Chicago Gamespace (a video game museum and gallery). Comprised of playable arcade cabinets and console titles, art and artifacts from its development and advertising, this exhibit explores the game's development and evolution from its beginnings at Namco in Tokyo in the late 1970's to its introduction in the U.S. market where it became a household name. This is a temporary exhibit only through May 30, 2021 so spring is your only opportunity to see it.
When: Open 1:00 – 5:00 pm on Saturdays and Sundays by advance ticket purchase only.
Where: Chicago Gamespace, 2418 W Bloomingdale Ave, Chicago, IL 60647
Cost:  Admission is $5. Kids under 12 are free.
FRIENDS™ Experience
If you loved the TV show Friends, this pop-up experience is for you. After a break, the FRIENDS™ Experience reopened on March 17 and runs through May 31, 2021. Get ready to explore FRIENDS™ like never before, with 12 rooms of set recreations, original props and costumes, photo ops, a retail store and a Central Perk set. They will donate a portion of the proceeds to My Block, My Hood, My City, an organization that provides underprivileged youth in Chicago with opportunities beyond their neighborhood.
Where: The Shops at North Bridge, 540 N Michigan Ave, Chicago, IL (corner of N Michigan Ave and E Ohio St)
Cost:  Tickets start at $35 + tax + fees. Standby tickets can also be purchased at the door for an additional $2 fee. Children 3 and younger are free. See https://www.friendstheexperience.com/chicago/tickets/ to purchase tickets in advance.
The Garfield Park Conservatory's 2021 Spring Flower Show "Saturation"
The Garfield Park Conservatory is one of the largest and most stunning botanical conservatories in the US. Often referred to as "landscape art under glass," the Garfield Park Conservatory showcases thousands of plant species from around the world throughout eight indoor display gardens. Outdoor gardens remain closed. The Garfield Park Conservatory's 2021 Spring Flower Show "Saturation" will immerse visitors in virtually the entire spectrum in the rainbow. Instead of typical garden design which incorporates different colors scattered throughout the landscape, Saturation concentrates groups of blooming flowers so that visitors will be able to see and understand the wide range of hues and tints within each color and enjoy their vivid, rich and intense nuances. All visits must be pre-booked in advance and bookings can only be made two weeks in advance.
Hours: Wednesday 10am-8pm; Thursday – Sunday 10am-5pm; Closed Monday and Tuesday
Where: Garfield Park Conservatory, 300 N. Central Park Ave., Chicago, IL 60624
Cost: Admission: FREE but donations appreciated
Experience the Marvel: Universe of Super Heroes Exhibit at Museum of Science and Industry
The Marvel: Universe of Super Heroes exhibit at the Museum of Science and Industry opened to the public on March 7. Marvel: Universe of Super Heroes celebrates Marvel history with more than 300 artifacts including original comic book pages, sculptures, interactive displays and costumes and props from Marvel's blockbuster films. Guests can examine the origins of iconic characters such as Spider-Man, Black Panther, Hulk, and Captain Marvel and see how they have evolved alongside society over the past 80 years, making these characters a pop culture mainstay.
When: Wednesday through Sunday from 9:30 a.m. to 4 p.m. Closed Mondays and Tuesdays.
Where: 5700 S Lake Shore Drive, Chicago, IL 60637
Cost: Not included in Museum Entry. Requires an additional, timed-entry ticket: Adults $18, Children (3-11) $14, Members $9.
Visit the New Museum of Illusions Chicago
The new Museum of Illusions Chicago offers an interactive, immersive and fun experience for both adults and kids. Visitors can engage in over 80 astonishing and mind-bending exhibits that will teach you about vision, perception, the human brain and science.
When: Sunday – Thursday: 10am – 8pm Friday – Saturday: 10am – 9pm
Where: 25 E Washington St, Chicago, IL 60602
Cost:  Adult (ages 18+): $21; Child (ages 5 – 12): $15; Child (ages 4 and under): FREE;
Student (ages 13+), Teachers, Military / First responders and Senior Citizens (ages 60+): $18​ with ID; Family (2 adults + 2 children): $65
Admire Famous Works of Art at The Art Institute of Chicago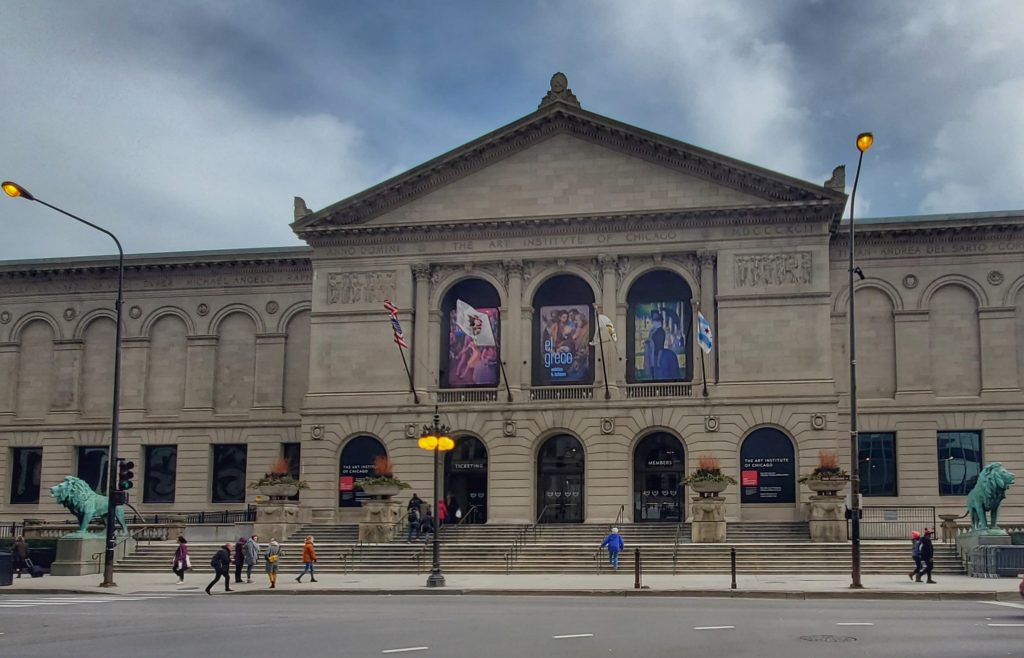 The Art Institute of Chicago is one of the oldest and largest art museums in the United States. In addition to its large permanent collection of art from around the world, you can see the popular "Monet and Chicago" and "Bisa Butler: Portraits" exhibitions.
When: Hours are Monday and Thursday–Sunday from 11 a.m.– 6 p.m. (10–11 a.m. for members). Closed on Tuesday–Wednesday. Must purchase tickets online in advance.
Where: 111 S Michigan Ave, Chicago, IL 60603
Cost:  $25 for adults, $19 for seniors, students and teens (14-17); members and children under 14 are always free. Visit their website to purchase tickets in advance.
Enjoy the views from 360 CHICAGO Observation Deck
360 CHICAGO, the observatory on the 94th floor of the former John Hancock Building, has the best views of the Chicago skyline and Lake Michigan.
Where: 875 North Michigan Avenue, 94th floor, Chicago, IL 60611
Cost:  $25 for adults, $15 youth.
Get Some Culture at The Field Museum
The Field Museum is a natural history museum in Chicago, Illinois, and is one of the largest such museums in the world.
When: Open 9am to 5pm, Thursday through Monday. Closed on Tuesdays and Wednesdays. Must purchase timed tickets to enter.
Where: Chicago's Museum Campus, 1400 S Lake Shore Dr, Chicago, IL 60605 (detailed directions and parking information is available here)
Cost:  Prices vary. Click here to see prices and purchase tickets online in advance.Illinois residents get free admission on free admission days (April 12, 15, 19, 22, 26, and 29, 2021).
Visit the Shedd Aquarium
Visit the Shedd Aquarium for unforgettable encounters with belugas and bluegills, stingrays and sturgeons.
When: Advance purchase of timed tickets is required.
Where: 1200 S. Lake Shore Drive, Chicago, IL 60605 (detailed directions and parking information is available here)
Cost: Admission is $39.95 ($19.95 for Chicago residents) for adults; $29.95 ($14.95 for Chicago residents) for children (3–11). Free admission on April 4 for Bank of America credit or debit cardholders under the Bank of America Museums on Us program.
See Flowers at Lincoln Park Conservatory
Lincoln Park Conservatory, one of Chicago's oldest public gardens, just reopened its indoor botanical gardens on March 26. Visitors will need to reserve timed-entry tickets and the conservatory will carry out a one-directional traffic flow.
When: Open from 10 a.m. to 2 p.m. Friday through Sunday. Hours may be expanded as conditions allow.
Where: 2391 N. Stockton Drive, Chicago, IL 60614
Cost: Admission is free, but visitors are encouraged to leave a suggested donation of $10 for adults and $5 for children and seniors.
Admire Spring Flowers
There are many places in and near Chicago to admire beautiful spring flowers which usually bloom around mid to late April. Some of the best spots to see flowers in the city and suburbs outside include:
• Lurie Garden is a 2.5-acre garden located at the southern end of Millennium Park. The garden is a combination of perennials, bulbs, grasses, shrubs and trees and offers great skyline views.
• Every year tens of thousands of tulips are planted in the Michigan Avenue medians from Oak Street to Roosevelt Road. RELATED: Best Places to See Tulips in Chicago
• The area surrounding the Columbian Basin in Jackson Park, located just south of the Museum of Science and Industry is home to about 160 cherry blossom trees that typically bloom each spring. The cherry blossoms bloomed early this year. As of April 7, the cherry blossoms have bloomed – peak bloom period for these trees typically lasts for about 6 to 10 days.
• Morton Arboretum (in Lisle about 26 miles west of downtown) is home to more than 4,000 different types of trees among 1,700 acres and publishes a weekly bloom report. The Morton Arboretum's newest outdoor art installation, Human+Nature by renowned South African artist Daniel Popper, will open April 9, 2021. The exhibition will feature five 15- to 26-foot-tall sculptures which will be in various locations across the 1,700-acre Arboretum site to lead guests to areas they may not otherwise explore.
• The Chicago Botanic Garden (in suburban Glencoe about 24 miles north of downtown) is one of the world's great living museums and conservation science centers with 27 gardens and four natural areas, situated on 385 acres on and around nine islands, with six miles of lake shoreline.
• Richardson Adventure Farm (in Spring Grove about 65 miles northwest of downtown Chicago) will be hosting its first ever Tulip Festival starting on April 24th (or possibly a few days sooner). They have 5 acres of tulip fields with 300,000 tulips of 30 different varieties.
As you can see there are still many things to do in Chicago this April.
---
Planning a trip to Chicago? Check out my Chicago guides and itineraries: