Looking for the most instagrammable places in Chicago? There is a new colorful mural in Chicago named The Songbird Wall (which replaced the well known pink flamingo wall earlier this month).  I live only two blocks from this instagrammable mural so I have put together a guide to The Songbird Wall, including location, how to get there, nearby attractions, best time to visit and other tips for photographing the colorful wall.
The Songbird Wall in Chicago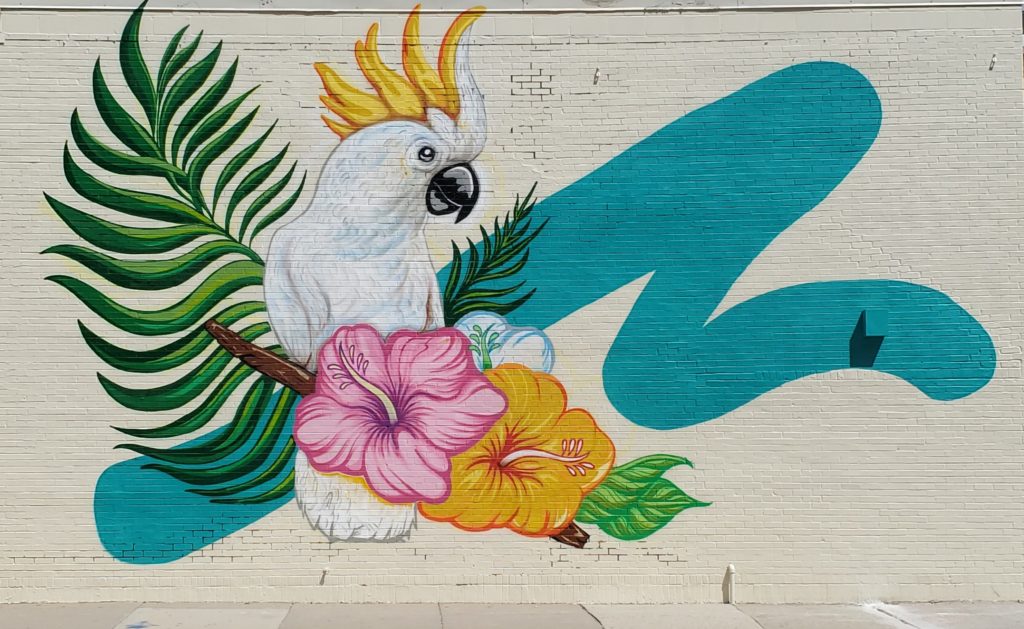 Chicago has many colorful walls and murals but one of the prettiest is The Songbird Wall in River North. The new mural was painted by Chicago artists, JC Rivera and Jaime "Ames" Navarro, and is inspired by peace, love, good vibes and tropical feelings.
The Songbird Wall Chicago Location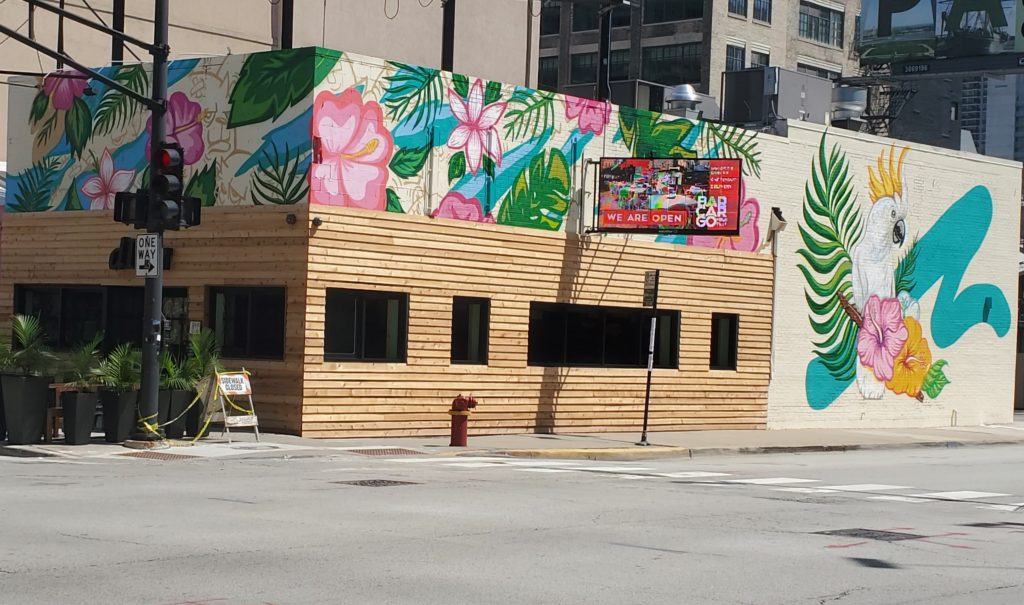 The Songbird Wall is painted on the side of The Diver restaurant, located at 601 N. Wells Street on the northeast corner of Wells and Ohio Streets in Chicago's River North neighborhood.
The building used to be home to the Flamingo Rum Club, a Cuban themed restaurant and cabaret, but was recently replaced by The Diver, a new restaurant inspired by small Mexican beach towns such as Tulum. If you want to grab a bite after taking instagram photos, The Diver is open on weekdays from 4-11pm and weekends from noon-11pm.
How to Get to The Songbird Wall
If you are using public transportation, the closest train stations to The Songbird Wall are:
Grand (Red Line Station) located at 521 N. State St. which is approximately a 9 minute walk (0.4 miles). Click here for walking directions from the station.
Merchandise Mart located at 350 N. Wells St. which serves the Brown Line (and also the Purple Line Express during weekday rush hours). It is an approximately 6 minute walk (0.3 miles). Click here for walking directions from the station.
There are also several buses that stop close to The Songbird Wall including 65 Grand, 156 LaSalle and 66 Chicago.
What Other Chicago Attractions is The Songbird Wall Close To?
You don't have to go out of your way to see The Songbird Wall as it is located in downtown Chicago and close to most of Chicago's major tourist attractions. If you want to combine The Songbird Wall with other Chicago sightseeing, the closest attractions that are only a short walking distance are:
Lou Malnati's in River North.  Lou Malnati's in River North (439 N Wells St) is one of the most famous Chicago restaurants and is often mentioned as one the best places to try Chicago deep-dish pizza. It is located less than 2 blocks south from The Songbird Wall.
Chicago Riverwalk. The Chicago Riverwalk is one of the best spots in Chicago for people watching and there are also restaurants, shops and places to sit along the way. The Chicago Riverwalk is located about 3 blocks south from The Songbird Wall.
Tips for Photographing The Songbird Wall
Unlike other popular Chicago instagram spots (like the Bean), you will not find a lot of people taking photos in front of The Songbird Wall.  The biggest issue for photographers that want the entire mural in photos are cars (both parked and in the street) blocking your photos.
There might be more people taking photos during the hours the restaurant is open (weekdays from 4-11pm and weekends from noon-11pm) so it is best to visit outside of those hours for instagram photos.
To get the entire mural in your shot, you can take photos from the sidewalk across Ohio Street (or even from the street itself if you are careful) while the light is red and there are no cars in the street.
Ohio is a one way street so you only need to worry about cars coming from one direction but it does sometimes get heavy traffic especially during weekdays.  I would avoid rush hour (7am to 10am and 3pm-6pm on weekdays) as chances are many cars will be in the street blocking your photos.  Weekends can also get busy around lunch or dinner as more people will be driving into the city.  Your best bet for good photos is either Saturday or Sunday morning before 10am or Sunday afternoon after 3pm.
Once you are ready to post your photos of The Songbird Wall on your Instagram (or you want to see photos others have posted) use the following instagram hashtags:
#thesongbird #thesongbirdwall #thesongbirdmural #songbirdwallchicago #thesongbirdchi
Other good instagram hashtags for Chicago murals to use include the following:
#chicagomurals #chicagostreetart #chicagopublicart
---
Planning a trip to Chicago? Check out my Chicago guides and itineraries: