As the pandemic is evolving, many people are changing their travel habits — choosing more remote destinations in which to reconnect with nature, rather than crowded, tourist-oriented cities. However, a survey by apartment website RENTCafé found that 42% of people still want to travel, which shows optimism and a desire to explore lesser-known areas. In particular, small towns, natural areas and beaches were among the most-searched-for destinations during the quarantine period.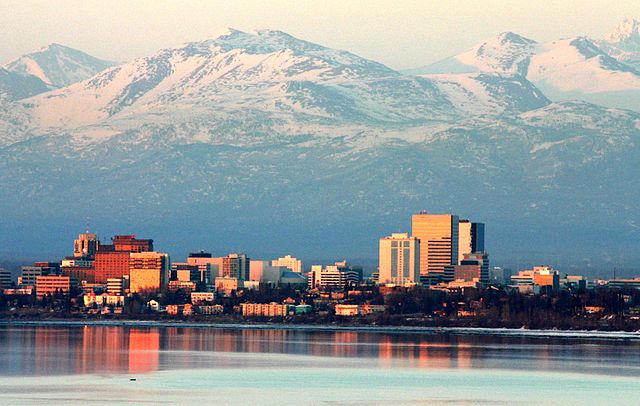 Frank K. from Anchorage, Alaska, USA / CC BY (https://creativecommons.org/licenses/by/2.0)
However, according to the survey, one of the few large cities that was still popular with tourists was Anchorage, Alaska. This comes as no surprise, given that it has a relatively low population despite being the largest city in the state. Anchorage also covers a large area of land and is fairly close to Fairbanks, a small town where the Northern Lights shine in all their glory and the #3 spot in RENTCafé's top. So, let's take a closer look at Anchorage to see what this northern beauty has to offer.
Location & Climate
Anchorage is located on coastal lowland in south-central Alaska. It's surrounded by the Turnagain Arm and its fjord, as well as the Knik Arm. The Chugach Mountains and the Chugach State Park are also part of the city, bordering it to the east.
Contrary to popular belief, Anchorage actually has a moderate climate due to the strong maritime influences on its subarctic climate. Specifically, summers are mild with long days, whereas winters are mostly cloudy and short on daylight.
Natural Areas
Here, there are plenty of natural areas to marvel at and witness the beauty of Alaska's wildlife. In fact, Anchorage is a city that combines urbanism and modernity with wilderness and nature. As such, you'll see moose wandering around the city, as well as a variety of other animals on your hikes. From the more tamed areas like the Alaska Zoo and Alaska Botanical Gardens to the banks of the Eagle River or the Chugach State Park, or on scenic trips alongside the Turnagain Arm to visits glaciers, there's no shortage of natural destinations in this city.
For instance, you can visit Hatcher Pass and the Matanuska Valley or the Denali National Park for amazing views. Or, take to Lake Clark and Katmai national parks for a chance to witness bears in their natural habitats. You can also enjoy the extraordinary wildlife at the Alaska Wildlife Conservation Center.
Things to Do
While there are regulations in place for the safety of both tourists and citizens, the sheer amount of space in Anchorage allows for easy physical distancing. To that end, there are plenty of outdoor terraces and events, as well as pedestrian-only zones in downtown. However, there are some rules you have to abide by here, including wearing a mask in crowded areas, as well as certain requirements when you arrive from out of state.
Meanwhile, there is a significant number of things to do in Anchorage, including hiking, tours, fishing, flight-seeing, wildlife observing, dogsledding and entertainment options. Anchorage also has a prolific art scene, so you can explore local artists and murals, as well as museums and galleries.
With so many options and things to do in this amazing place, it's possible that you'll want to stay for more than just a week. And, because many people are working remotely, perhaps you'll be able to stay longer and enjoy all of the natural beauty of this place. Fortunately, as a renter-friendly city, rental apartments in Anchorage are quite numerous, and there are also short-term options to choose from. So, if you're looking for your next adventure, Anchorage is surely an amazing place to venture to.