The big apple as it's known as well to be. More people flock to New York now than ever before. It might be because it's so publicised on social media, or it might be because people are finding out what an amazing part of America it is to visit. Like with all of the states, it does have its pros and cons, we don't deny that. But for the most part, New York is one of the best states to visit, and there are so many things to do there that you could fill two weeks or more. If you love the hustle and bustle of a city vibe, and don't mind being in amongst the crowd on a daily basis, then this is the destination for you! So, if you wanted to head to the US, but weren't sure what state you should visit, have a read of this article, and see if we can convince you to head to the big Apple before the year is out.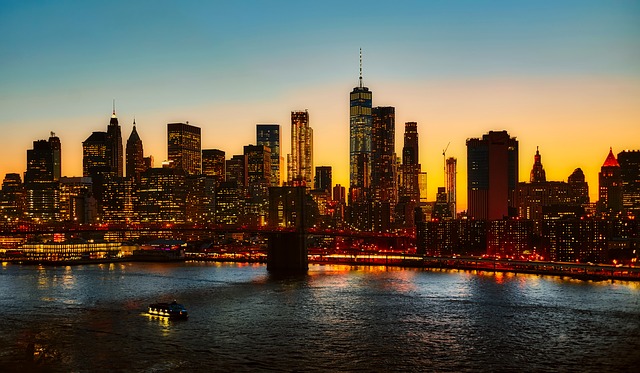 Image Source
Entertainment
If you're looking to have some fun out there, then New York has it all for you. We want talk about the main attractions such as the Ground Zero memorial, because most of you will already know all of them off by heart. So, we want to show you what you can do to keep yourself entertained. The first thing is to go and watch a musical. If you've ever watched one in your home country, it'll be nothing compared to what you could experience here! The Broadway show Waitress is a really good one to see, as it has a bit of everything to please everyone! If you're looking for something a bit more Disney themed, because who doesn't love Disney!? Then you might be best having a look what time of year the Lion King is in the theaters. A heartfelt classic that just can't be ignored. Broadway isn't the only entertainment you could have. We highly recommend that you go to watch a basketball game, or a hockey game. The atmosphere at them is always incredible, because boy do the Americans love their sport!
Food
Food is a biggy out there. Whether you're someone with a raging appetite or not, we guarantee that the food here will get you drooling. First on the list, is the famous meatball sub. Joey Tribbiani from friends made this one famous, and there are little sandwich shops dotted all around the state that do THE best meatball subs. That is of course, if you like it. The iconic New York bagel filled to the brim with whatever you want it to be filled with shouldn't be missed either. When you're done snacking at all of the little shops that you'll find on the corner of the street, you should think about heading somewhere a bit upmarket for dinner. New York is expensive, there's no denying that. So maybe on your last night of the holiday, go all out and find the best restaurant closest to you by having a quick Google search! Breakfast is also a biggy in New York. There are so many tasty diners for you to go to, you really will be spoilt for choice. If you were ever on a diet before New York, throw it out the window!
The Rush
You've got to be prepared for the rush. If you're walking around somewhere like Times Square for example, all you'll see is a field of tourists and native New Yorkers alike, clashing into each other. The problem is, all of the locals are in a rush to get somewhere. It's the big city, and most people work at big companies, with big deadlines, and big problems to deal with. So you might find that you get knocked into a few times, especially if you're walking around with your head in the sky trying to take everything in! But, once you adjust to the madness, you'll want nothing more than to become a part of it. You'll find yourself pacing down the street with the flow of the traffic of people, marching towards your next destination!
The Best Time Of Year
We have to say that the best time of year to go, and this might have been obvious, is Christmas and New Year. Arguably one of the most expensive and busiest times to go, but it does offer an experience like no other. It'll most likely be snowing, all of the Christmas decorations will be out, and the vibe is like no other country you'll go to!