Are you planning a pilgrimage to Graceland? Elvis's home in Memphis is an iconic site, and even those who aren't huge fans of his music will enjoy learning more about the King of Rock and Roll and his place in American musical history when visiting Memphis. Graceland isn't the only Elvis site in town, so if you're immersing yourself in this fascinating subject, you'll want to check out all the related attractions as well. 
The Graceland Mansion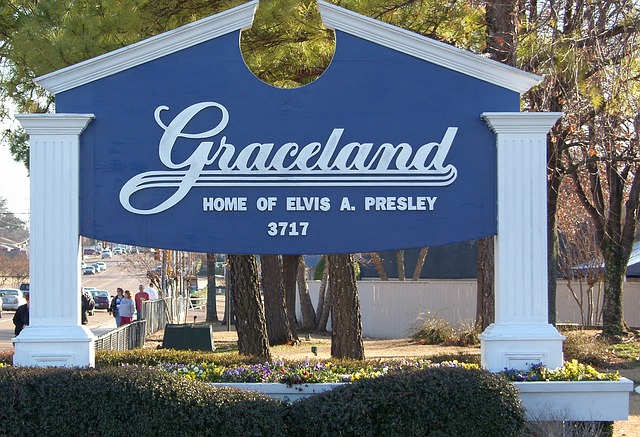 The first stop for any Elvis fan is his 1970s home, which is one of the most-visited private residences in the United States. The sights here include the famous Jungle Room, the pink Cadillac and other vehicles, Elvis's private jets, the garden where he and his family are buried, and much more. You'll get a good sense of the King's wealth and his eccentricities when you visit Graceland. 
The Arcade Diner 
Elvis and his posse, the Memphis Mafia, loved to eat in this 1950s-style diner. Stop by for breakfast and enjoy the kind of down-home Southern cooking that Elvis loved. The atmosphere hasn't changed much, so you'll be able to imagine Elvis and his mafia buddies sitting in the corner booth that was their favorite. Near the Arcade you'll find Lauderdale Courts, a public housing development where Elvis lived with his mother when he was a teenager during some of the lean years of his younger life. 
Beale Street 
You'll want to visit Beale Street for a couple of reasons. First, this historic street of bars and live music venues is still the most happening place to be after dark in Memphis. Second, young Elvis loved the music and lifestyle of Beale Street, and this neighborhood influenced both his music and his personality as he grew into a young man. Use the HotelPlanner website to search for Memphis hotels near Beale Street so you won't have to go far if you stay out late. 
Sun Studio 
The narrow brick building where Elvis recorded his first two songs is not only still standing, but still operates as a recording studio. Sam Phillips was the owner when Elvis came to record a disc as a birthday gift for his mother. Phillips created a lot of stars at Sun Studio, including B.B. King, Johnny Cash, and Jerry Lee Lewis. The blues music that was developing in the black neighborhoods of Memphis blended beautifully with country music, and from that mix of cultures, rock and roll was born.  
Lansky Brothers 
Elvis was known for his sequinned jumpsuits and oversized pompadour in his Vegas years, but as a young man, he was considered a fashion icon. Lansky Brothers on Beale Street is where he would buy the fringed jackets, deep bell bottom pants, and brightly colored shirts that were his signature elements. The store is still here, and you can stop by to create your own trendsetting style. 
You'll find other such sites and attractions all around town, but these are the places that Elvis lovers won't want to miss.