St. Lucia attracts fearless travellers from all over the world who want to kayak around hippos and crocodiles. It might sound crazy but for some people it is a dream come true. There are lots of places around the world to enjoy kayaking however none so unique as here in St Lucia in amongst these dangerous beasts. Read on to find out more about this thrilling experience.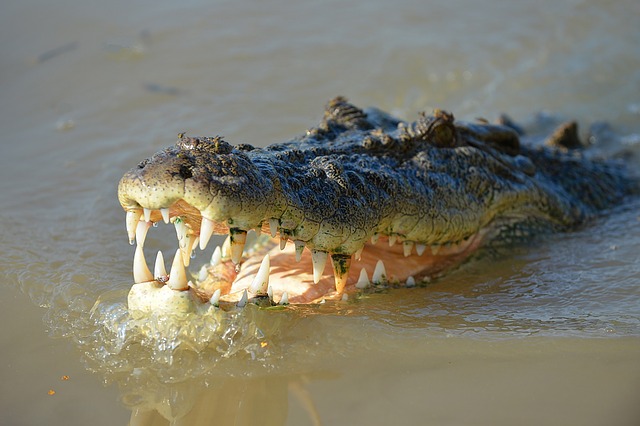 Getting here
St Lucia is located around 3 hours' drive from Durban and is home to the famous iSimangaliso Wetland Park UNESCO World heritage site.  It is on the St Lucia estuary within this park where you can take part in kayaking with crocodiles, hippos and even sharks just metres away from you.
To get here take a flight to Durban, internal flights are offered by Kulula Airlines, and you can either drive or catch a shuttle directly to St Lucia town.
How to book
Kayak Safaris offer multiple trips including full and half day kayaking trips. Some trips include snorkelling in Cape Vidal and excursions to Catalina Bay. Do some research before you travel and decide which option suits you the best. Some offers include meals and drinks during the day too. You can also just book the kayaking on its own which can cost as little as 35 USD.
About the trip
You will be warned before you set off that you are about to glide by the most dangerous animal in South Africa in merely a small boat! But you are safe if you keep your distance from the animals and be wary of your surroundings.
Start your tour at the boat locker slipway and be prepared for around two and a half hours per tour. During your paddle, you will pass through crocodile and hippo territory and maybe even spot bull sharks swimming in the water. You will also see an amazing array of beautiful and colourful birds in this natural habitat. The tour is very laid back despite the location and you will slowly make your way along the St Lucia estuary.
You guide will point out the animals and birds along the way providing you with a wealth of information about the local area and animal habitats. Guides will also give you safety advice whilst on the water too. They are very experienced with the water and the animals and will know how to keep you out of danger.
There are some amazing scenery and views so keep those cameras at the ready for some incredibly memorable moments to capture on your tour.
What else should you know?
It is advised that you have experience of kayaking before you take this trip due to the dangerous nature of the animals you will be encountering. It's not really a good idea to do this as an absolute beginner even though you are assured you will be safe.
It's not an experience for the faint hearted but is definitely a once in a lifetime trip. Be brave and you won't regret it!
Tours can be cancelled at short notice to ensure the visitors safety and are weather dependant. Kayak tours are only available for adults and children over the age of 12 years old.
Would you brave kayaking with crocodiles?
An experience like no other to be had in South Africa, you will never be so close to such dangerous animals in the wild. A scary experience but also something you will never forget. Would you or have you ever kayaked with crocodiles? If you have what was your experience like?