Unlike many large cities Austin, Texas does not have a large number of landmarks.  It is a city best experienced through its food, music and culture.  Here is my suggested itinerary if you only have one day in Austin:
Austin in One Day Itinerary
Here is my suggested itinerary for what to see and do in Austin in one day:
Tour the State Capitol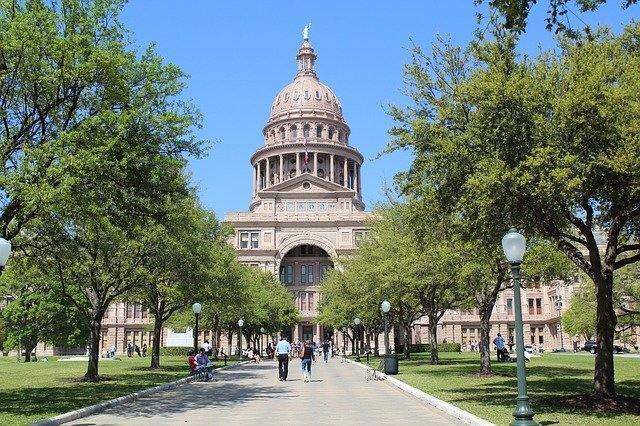 If I had to pick one must see in Austin it would be the State Capitol building.  This iconic landmark is the biggest capitol building in the US. There are free guided tours as well as self-guided tours.
Lunch
Pick up lunch from one of Austin's many food trucks or have lunch at the Whole Foods flagship store on Lamar. This is no ordinary Whole Foods store -they have food stations with all kinds of prepared food and even a wine bar.
Taste Mexican Vanilla Ice Cream at Amy's Ice Cream
After eating healthy at Whole Foods treat yourself with some ice cream. Stop by Amy's Ice Cream which has been described as a quintessentially Austin institution.  Amy's Ice Cream has over 350 flavors in rotation but is most well known for their Mexican Vanilla.
Shop for Cowboy Boots
If you've always wanted a pair of your very own cowboy boots, head to Allens Boots. This store has the largest selection of boots under one roof in the world.  You will find boots in every style and price range imaginable.
Take a Relaxing Break
This is a good time for a break to recharge before going out for the evening.  Now is a good time to go back to the hotel for a brief nap or pamper yourself by visiting a massage studio in Austin.
Watch Bats Take Flight at Sunset
If you visit Austin during "bat season" (March to October but best in August and September), you can join the crowds to watch a cloud of over 1 million Mexican free-tail bats leave their home under Congress Avenue Bridge and fly into the sky. This largest colony of urban bats usually takes flight around sunset.
Dinner
Austin is famous for Mexican food and barbecue.  There are so many good restaurants in Austin but one place that gets great reviews for its BBQ is La Barbecue.
Listen to Live Music
After dinner head to one of Austin's many live music venues.  Austin is known as the "Live Music Capital of the World" because it has more live music venues per capita than anywhere else in the United States.
There are so many more cool things to do in Austin, but these are my top picks if you only have 24 hours.  If you are on a budget, check out these fun and cheap things to do in Austin.
Where to Stay in Austin
The Driskill is my top pick for a hotel when visiting Austin. This historic hotel is conveniently located on 6th Street in downtown Austin near numerous bars and restaurants.  Click here to see the latest prices.
When to Visit Austin
Austin is a great destination year around but summer can get too hot. Spring is one of the best times to visit Austin.