There is no dearth of cute, funny, sleeping, adorable, heart- melting, panda videos on the internet. It is well established that the pandas are the epitome of cuteness and people never seem to get tired of videos with pandas sleeping, falling, sliding, clutching a bamboo tree, or even simply sitting.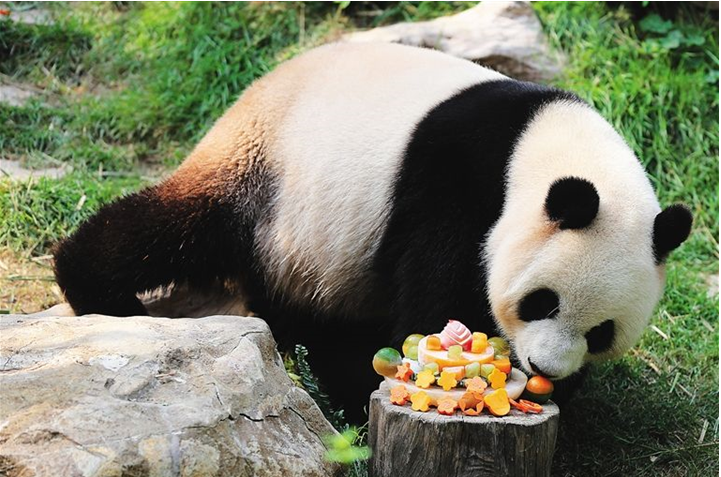 Lovely Pandas eating Fruit
There are many who wish that they were a panda keeper or to simply even see them up close. Well, if you are one of those people here is happy news for you—you can now work with pandas. Yes, you heard it right. There are panda bases in China where they let volunteers to take care of day-to-day activities in the panda centres. Here is everything you need to know about panda volunteering in China.
PANDA BASES IN CHINA FOR VOLUNTEERING
Although there are more than 4 panda bases in Sichuan province, China, only a couple of them provide panda volunteer programs. There are volunteering programs in Dujiangyan Panda Base and Shenshuping Panda Base in the Wolong Panda Reserve. The Dujiangyan Panda Base is located 18km from the Dujiangyan downtown. This panda base covers about 760 acres and houses more than 30 giant pandas and 5 red pandas. There are many different zones like healing zone, scientific zone, scenic zone, educational zone, and isolation zone. The healing, educational, and scientific zones are the ones open to public.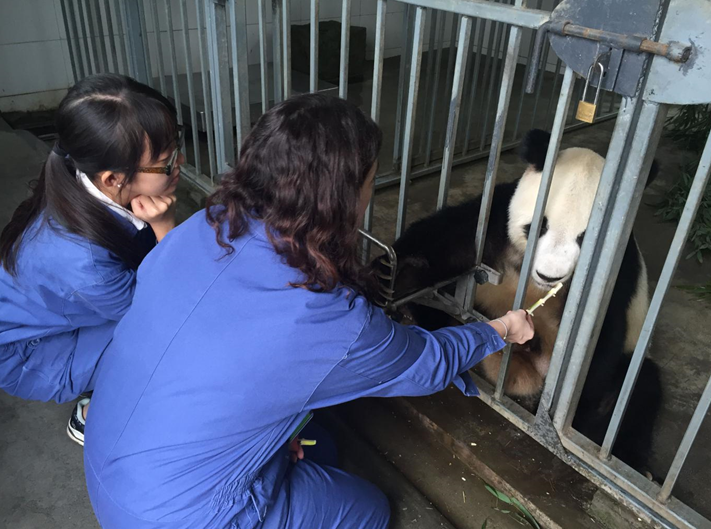 Volunteer job
The Wolong Panda Reserve is the world's largest giant panda breeding centre. Reputed as the 'Panda kingdom,' Wolong Panda Reserve is the home to 60% of world giant panda population. It is most dynamic and self-sustaining giant panda reserve in the whole world. It has 59 panda enclosures, scientific research centres, in-house hospitals, and many such facilities. The panda centre is mainly divided into three areas: captive area, training area, and reintroduction area. Captive area is where tourists get to see the pandas. When you visit the Shenshuping Panda Base, you can see that the natural surrounding and environment contributes much to the harmony of the pandas. Apart from volunteering program, there is a trekking program in this base that lets you see the natural habitat of giant pandas in the Tiantaishan Mountains. In the course of the trek you will get to meet the research team, learn about the instruments used like trackers, and see the training area.
VOLUNTEERING PROGRAM:
The volunteering program is the biggest highlight in the Dujiangyan Panda Base. You don't only get to be in close proximity to the pandas, you will also pick up some skills and scientific or technical information on what it takes to breed or maintain a panda. In a normal one-day volunteering program these are the activities you will be involved in and this is how your day will go about.
MORNING:
| | | |
| --- | --- | --- |
| TIME | ACTIVITY | DESCRIPTION |
| 8:30- 9:00 | Introduction | Get the work suites and gloves, sign the security agreement, get the volunteer pass card, and get the instructions for the day from the employees |
| 9:00- 10:00 | Honourable panda keeper experience | Cleaning out panda poop, emptying out the old bamboo and filling in with new bamboo, wash the panda house |
| 10:00- 11:00 | Wonderful Panda Tour | Exploring and visiting other panda enclosures to see giant pandas and red pandas |
| 11:00- 11:30 | Regardful Panda Feeding | Feeding the pandas with carrot, panda cake, or whatever is on menu for pandas that day |
LUNCH: 11:30am to 1:00pm- Take a break and have lunch whilst conversing with the permanent employees. If you still have time, you can explore the base, talk with the employees, or even meet some cute pandas.
AFTERNOON:
| | | |
| --- | --- | --- |
| TIME | ACTIVITY | DESCRIPTION |
| 1:00 to 2:00 | Panda Cinema | Watch a documentary about Pandas. |
| 2:00- 2:50 | Cleaning and feeding | Clean the panda living areas and feed them again for the afternoon |
| 2:50 to 3:30 | Panda Nutritionist time | You will get to prepare and make food for panda and might even get a chance to make panda cake |
| 3:30 and after | Get certificate | After all the activities are over you can plant some bamboo trees, get your certificates, some souvenirs, and wrap your day |
FEE: The fee for the volunteering program depends on the time you go. It is approximately 700RMB per day. The cost of tickets for scenic views, t-shirts, lunch, and other fee are all included in the volunteer fee itself.
Your allotted guide will be with you throughout the day, so there will be no problems with language. The guides are efficient in English. The schedule is subjected to change depending on various factors.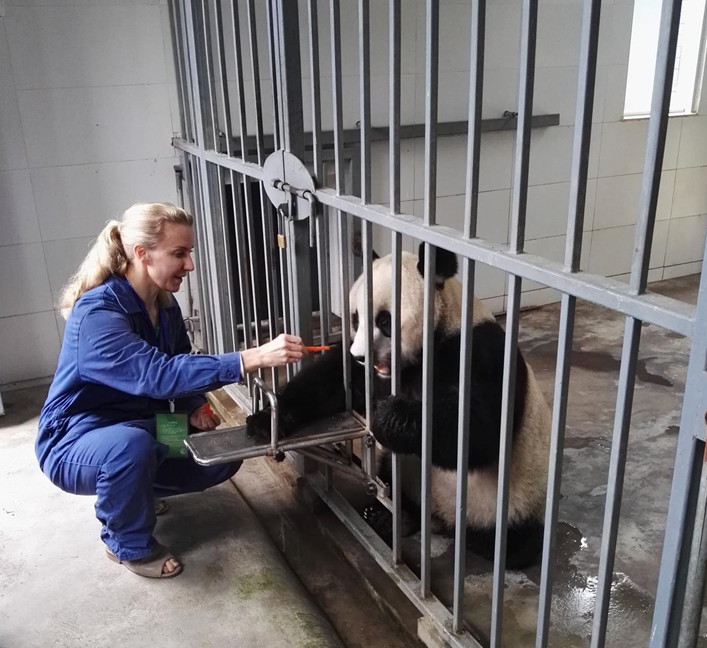 Panda Volunteer
In case if you haven't signed up for the volunteering program and are just visiting as a tourist, you can still hold a panda and take a photo. You will be required to wear shoe covers and gloves. You will be required to pay extra for holding the panda, from which the proceedings go to welfare and caretaking of pandas.
REQUIREMENTS FOR THE PANDA VOLUNTEER PROGRAM:
Volunteers are required to submit a Health Examination Form. The form doesn't have to be necessarily certified from China, it can be any valid certification from your country. For more details or clarification you can ask your travel agent.
There is an age limitation and only a certain number of people can volunteer at a time. The volunteers should be aged between 12 and 65. There can be only up to 30 volunteers at a time, so it is necessary to book your slot at least a week in advance.
It is advisable not to wear or use any strong deodorants or perfumes, and other strong smelling items like nail polish or creams as pandas have a keen sense of smell.
Wear something comfortable on the day of volunteering. Make sure that you wear shoes as there will be a lot of working and walking to do. Sandals, heels, or any other type of footwear would not really be ideal. The volunteers will be provided with work jump suits or t-shirts to wear while working in the base.
The fee you pay will be donated and used for protection and well-being of endangered species.
Both the bases are easily accessible from Chengdu. To get to Dujiangyan Panda Base from Chengdu, you can take a train from Chengdu North Railway Station and get down at Qingchengshan Station. From there you can take a taxi or local bus to the panda base. To get to Wolong Panda Reserve, there is no public service bus yet. But it is just 106km away from Chengdu, so you can hire a car and go by self-drive or get a taxi.
Apart from the panda tour, there are a few attractions near both the bases that you can explore and are worth your time. It is a great opportunity to learn about their culture too. It is definitely a unique experience to be with pandas, see how they live, learning interesting facts about them, and be in such close proximity with them. Taking one of the volunteering programs is a must do when you come to china, as after all, it is not everywhere you get the chance to meet the internet acclaimed most adorable creatures on earth.