When travelling on business to a major hub, most people can relate to not feeling like they've truly experienced a city. Often at the helm of your hosts who have been appointed to make your stay as comfortable as possible, as hospitable as they may be, you'll inevitably spend most of your time getting to know the local bars and karaoke rooms better than anywhere else. It's no surprise really, as any cultural or language barriers tend to be broken down with a little help from a few beers, but just because you're a guest, that doesn't mean you should resign yourself to four walls. On a fleeting trip to Tokyo with just an hour here and a minute there between those all all-important business arrangements, here are five quick-fire ways to get a taste for the city beyond the threshold of the meeting room.
Grab some street food

Image source
Although the street food culture in Tokyo is less prevalent than in other business hubs like Bangkok or Saigon, nothing says a fleeting slice of culture like street food, so make it your mission to track down a seller flogging classics like sweet potato roasted on hot stones or okonomiyaki, a savoury pancake served with cabbage, noodles, thinly-sliced pork and eggs and an authentic Japanese topping formed of pickled red ginger, dried seaweed and mayonnaise. For dessert, head to Asakusa, a popular spot for street vendors serving up batches of Ningyoyaki; small, sweet cakes filled with bean paste. A far cry from the best restaurants in Tokyo, you'll also find a plethora of stand-up eateries designed for those who are on the move, where you can get your quick-fire fix of sushi or noodles without the bother of being seated and served.
Take refuge in a park

Image source
Tokyo is home to little bursts of surprise, from the traditional temples that juxtapose with the grey of skyscrapers, to the Imperial Palace that stands strong at the heart of the city. Perhaps most surprising of all is the number of green spaces throughout, with many within walking distance of the business districts such as the Imperial Palace Gardens. Pick up a bento box and head to one of these rural retreats before spending a relaxing hour amid the great outdoors under the shade of the blossoming trees, far away from the high rises. People-watch, flex the legs or have a picnic by the water – whatever you do, take the time to escape from the rush of the streets.
Museums

Image source
Tokyo is home to a plethora of museums covering a range of topics, from history and anime to parasites and photography. Plus the great thing about the humble museum is that you can dip in and out at your leisure. Tokyo National Museum is the largest in all of Japan and will provide a fascinating insight into the country's rich history and culture, as it houses Japan's most cherished national treasures. For something on a smaller scale that's distinctly Japanese, try the Sword Museum or the Museum of Emerging Science to see what this tech-savvy nation has been up to.
Find Water

Image source
Enveloped by the sprawling skyline and glistening waters, Tokyo's bay is a beautiful place for a stroll, no matter the time of day. Follow the river along until you meet Tokyo Skytree, the world's tallest tower. Whilst you won't have time to take in the views from the top, it signifies the beginning of your lunchtime walk that stretches the length of the Geidai Taito Sumida Sightseeing Art Project. This unique display of contemporary art reaches across the river and ends at Senso-ji, one of the city's most recognisable temples, with the total journey taking less than 25 minutes and serving as a good introduction to the riverside area, which is especially beautiful during sakura season.

Image source
Grab a 30-minute massage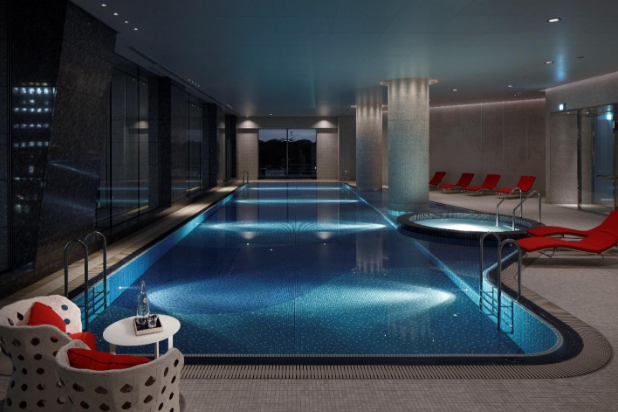 Image source: Palace Hotel Tokyo
It's a tough life staying at the best hotels in Tokyo, only to be wined and dined daily. Break it up with a quick spa treatment at your hotel to experience Japanese seitai, an acupressure-style health treatment that focuses on restoring and revitalising movement throughout the body. Many of the city's spas offer mineral-based treatments, inspired by the nature that surrounds Tokyo. You'll never have felt more ready for a day of work.