If you are in or close to Iowa and googled "sunflower fields near me" you are in the right place. There are several beautiful sunflower fields and farms throughout Iowa for those that want to enjoy being in nature or take photos for instagram. Keep reading for a list of the best sunflower fields in Iowa that you can visit this summer and fall.
Sunflower Fields in Iowa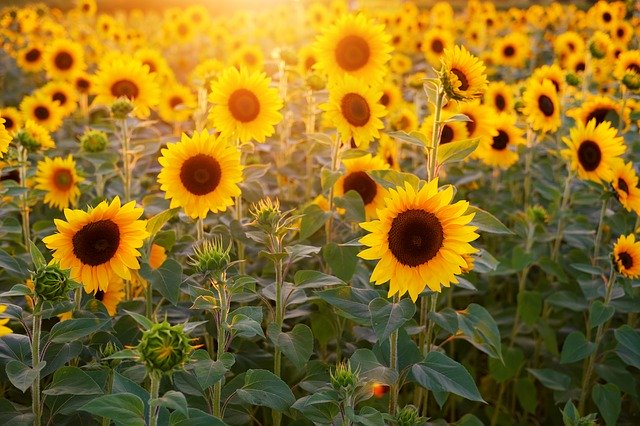 Below is a list of sunflower fields in Iowa. I have included useful information you need to plan your visit, including addresses, hours, bloom dates as well as links to their websites and facebook pages. Note: Some sunflower fields close after too much rain so make sure to check their facebook pages for the most up to date hours, dates and weather related closures before you go.
Sunflower Fields Near Cedar Rapids
Pheasant Run Farm
Where: Located about 35 minutes from Cedar Rapids in Benton County right along Hwy 30 between Keystone and Belle Plaine at the intersection of Hwy 30 and Hwy 131/V40 at the Belle Plaine exit. No matter what Google and Apple Maps tell you, stay on Hwy 30! Find detailed directions on their website here.
When: Saturday, September 5 from 8:00 a.m. to noon
Cost: Open to the public. All stems are $1 each. Cash and credit cards accepted.
Pheasant Run Farm had really beautiful sunflower fields but unfortunately the Sunflower Experience was damaged by the derecho and had to close early for the season. They still have a cutting garden with flowers.
Check their facebook page and website for most current information.
Bloomsbury Farm
Where: 3260 69th Street, Atkins, Iowa 52206 (located about 10 minutes west of Cedar Rapids and 40 minutes north of Iowa City).
When: September 17th-early October
Cost: Prices not yet announced but will be cheaper if you purchase online in advance. Flash sale starts on September 8th at 8am.
Hours: Thursday-Sunday: 10am-6pm.
Bloomsbury Farm is holding their very first season of Sunflower Days where you can come pick & frolic in their stunning fields of flowers & enjoy tons of fun farm activities. Pets are not allowed.
Check their facebook page and website for most current information.
Sunflower Fields Near Sioux City
Scarecrow Farm
View this post on Instagram

Where: 1592 Charles Avenue, Lawton, Iowa 51030 which is located just outside of Sioux City.
When: Sunflower days are September 12th-13th, 19th-20th, 26th-27th from 10am-7pm.
Cost: $12.95 admission at the gate but you can save money if you buy tickets online in advance (they are having a flash sale until September 3 at 11:59 pm). Admission includes a free bloom, photo ops, live music, and more. Additional sunflowers cost $2/stem.
Scarecrow Farm has over 2 acres of beautiful sunflowers and zinnias. Check their Facebook page, instagram and website for most current information.
Sunflower Fields Near DeMoines
Center Grove Orchard
Where: 32835 610th Avenue, Cambridge, IA 50046 (about 30 minutes from DeMoines and Ames)
Dates: Their 2020 season runs from early August through early October.
Hours: Open daily between 9 AM – 7 PM.
Cost: Admission Price is $11.95 Mon-Thurs and $15.95 Fri-Sun. Kids under 3 are free. There are also season passes available. See their website for full pricing and to purchase tickets online.
Center Grove Orchard has six sunflower meadows blooming at different times so they have a long sunflower season. If you are a professional photographer, make sure to read their professional photography policy.
Check their facebook page and website for most current information.
Sunflower Fields in Southeast Iowa
Appleberry Orchard
Where: 2469 IA-2, Donnellson, IA 52625
Dates: Sunflower Festival is being held September 2 -7
Hours: 9 AM – 5 PM
Cost: Admission is $7 per adult and $5.50 for children ages 3-17, 2 and under are free, includes sunflower fields, Appleberry Acres & Petting farm & corn maze. Admission includes one (1) stem to cut and take with you, bring your clippers. Additional stems are available for purchase.
Appleberry Orchard is an agritainment farm business that offers a farm market store, Appleberry Acres & Petting Farm, u-pick apples & pumpkins, weekend activities and special events throughout the year.
They are having a Sunflower Festival where visitors can view thousands of sunflowers in all different colors. Photos opps include a fence, truck, tractor, red velvet couch and more. There is also a viewing platform to see above the whole field.
Check their facebook page for most current information.
Have you visited any sunflower fields in Iowa?